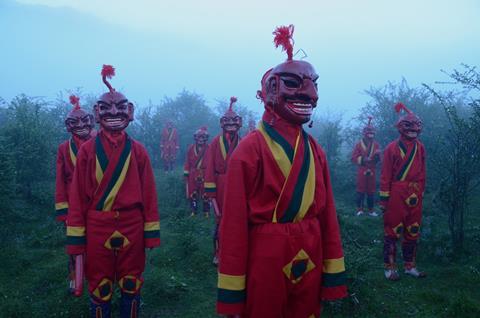 Asian Shadows has picked up international rights to Bhutanese director Tashi Gyeltshen's debut feature The Red Phallus, which is premiering in Busan's New Currents competition.
Set in a remote valley in Bhutan, the film follows a teenaged girl who lives with her father, a traditional craftsman of wooden phalluses. Feeling trapped by the belief systems of her community, she starts a relationship with a married man from the lowest caste of the village.
The film is produced by Gyeltshen's Studio 108 in collaboration with Kathmandu-based Icefall Productions, founded by rising Nepalese producer Ram Krishna Pokharel, and Kristina Konrad's Berlin-based production outfit weltfilm.
The cast is headed by Tshering Euden and Singye, both also making their feature debuts, while the crew includes established cinematographer Jigme T Tenzing (Honeygiver Among The Dogs).
When at project stage, the film was selected by Locarno film festival's Open Doors programme, where it won one of the two Open Doors grants, funded by the festival, the Municipality of Bellinzona and Swiss fund Visions Sud Est. It was also selected for the Hong Kong-Asia Film Financing Forum's Work-In-Progress Lab in 2018.
"Nepal and Bhutan have a lot of similarities in geography, culture and language," said Pokharel, who met Gyeltshen at Open Doors. "We are very pleased to have worked with Tashi who is dedicated in creating a new wave in Bhutanese cinema.
"The film became possible with great effort by talented crew from Bhutan, Nepal, Philippines, Sri Lanka and India, as the film was shot in Bhutan, editing happened in Nepal, and the rest of the post-production was done in India."
A former journalist and poet who taught himself filmmaking by reading and watching films, Gyeltshen previously directed short films Girl With A Red Sky (2009), A Forgotten Story (2010) and The Red Door (2014) as well as documentary Taekwondo In Bhutan (2011). A Forgotten Story won best screenplay at Bhutan's National Film Awards, while The Red Doo rpremiered at Rotterdam film festival.
"With The Red Phallus, Tashi Gyeltshen gives us a powerful and uncompromising tale of today's Bhutan," said Asian Shadows CEO Isabelle Glachant.
"Bhutan is still a young nation from a film industry point of view, making it difficult for filmmakers like Gyeltshen to produce, finance and distribute films within their national resources. Seeing so many Asian countries joining forces in the production of The Red Phallus is inspiring and made it a richer and stronger film."
Asian Shadows' Busan slate also includes Suba Sivakumaran's House Of My Fathers, which is also receiving its world premiere in New Currents, Wang Xiaoshuai's Chinese Portrait, which premieres in Wide Angle, Garin Nugroho's Memories Of My Body, Nawapol Thamrongrattanarit's Die Tomorrow, Rima Das' Village Rockstars and Roya Sadat's A Letter To The President.