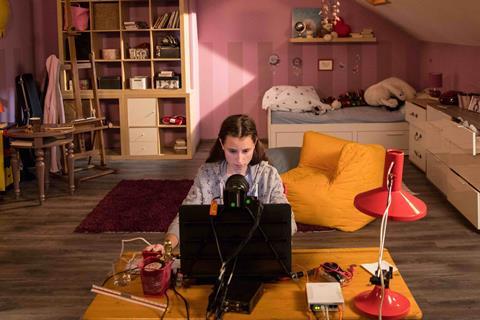 Aerofilms' Caught In The Net, a crowdfunded feature documentary about online sexual predators has broken box-office records in its native Czech Republic, outperforming Hollywood blockbusters and also prompting police investigations.
It sold 115,000 tickets during its opening weekend, larger than the openings of Joker (103,167) or Fast & Furious 8 (113,460). It has easily surpassed the previous local record for a documentary in the Czech Republic which was held by 2008's Citizen Havel, also released by Aerofilms, which sold around 60,000 tickets.
Caught In The Net has now been picked up for world sales by Vienna-based documentary specialist Autlook Films and it will have its international premiere at CPH:DOX later this month.
Directed by Vít Klusák and Barbora Chalupová, the documentary is about three adult actresses who create fake social media profiles and pretend that they are 12-years-old in online chatrooms. Within the first 10 days of their experiment, more than 2,000 men contacted the profiles.
Aerofilms released two versions of Caught in the Net in February; one aimed at older audiences aged 15 and above and one suitable for school-aged children. The 15+ cut has racked up 155,000 admissions, with around a further 15,000 garnered by the cut aimed at younger viewers.
"This film is touching a point everybody knows about but that many parents and adults want to know more about," Aerofilms CEO Ivo Andrle told Screen. "This younger version is very much used for school screenings. We have contacted pretty much every school in the country and we are stormed with requests. We had to hire extra people just to handle all the school screenings."
"There was a lot of curiosity," Andrle added. "As strange as it sounds, it is an entertaining watch. You get tears, you get a lot of laughs and it is very emotional for a lot of people."
There is now talk of the two-version experiment behind the film being replicated in other territories.
"This is a problem in every country in the world that is using the Internet," said Andrie. "As a cinemagoer, I think you will want to see your own local version of this."
He revealed that nine of the online predators who approached the women during shooting are now under police investigation.
Salma Abdalla, CEO of Autlook, added: "It's an urgent call to take action. The team provokes and at the same time smartly embeds the issue with therapists and legals on set."
Caught In The Net was developed from an original idea by Klusák. The producers and co-producers are Hypermarket Film, Czech Television, Péter Kerekes, Radio and Television of Slovakia, Helium Film. A related book, Kdo Chyta V Siti (which loosely translates as Catcher In The Net), has been published including interviews with the actresses, some of the predators and also some of the victims.