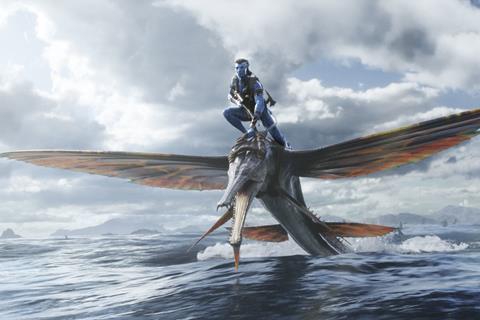 Avatar: The Way of Water is today (Jan 4) expected to become the highest-grossing release of 2022, reaching the $1.5bn global box office mark.
In reaching its latest milestone the Disney/20th Century Studios/Lightstorm blockbuster will top the $1.49bn taken by Top Gun: Maverick and become the second biggest global earner of the pandemic era, after Spider-Man: No Way Home (which racked up $1.9bn a year ago).
By the end of Tuesday (Jan 3) the Avatar sequel had taken $1.482bn around the world from 21 days on release, $457.3m from North America and $1.025bn from international markets. The total made it the twelfth biggest global release ever, just ahead of Disney's own Frozen II, and the ninth biggest international release ever, climbing past Jurassic World.
In North America, The Way of Water now stands as the second biggest release of 2022, having overtaken Disney/Marvel's Black Panther: Wakanda Forever earlier this week.
By this weekend, The Way of Water should enter the all time top ten of global performers, moving past Furious 7 and The Avengers.