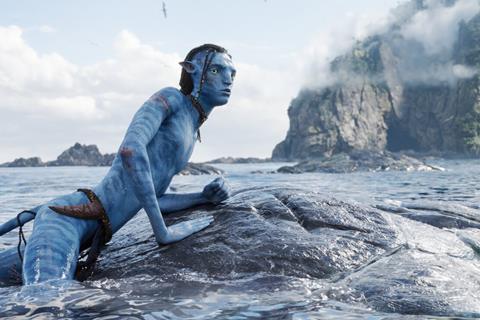 James Cameron's Avatar: The Way Of Water was on course to cross $650m at the global box office today after surging past $600m on Wednesday.
The action fantasy sequel to 2009's Avatar – the highest grossing film of all time worldwide on $2.92bn – added $39.5m internationally for $426.8m and $14.3m in North America in the second highest Wednesday of 2022 for a $182.9m running total.
As of Thursday the overall global tally stood at $607.9m.
Latest numbers for the 20th Century Studios/Disney tentpole put China on $70.5m, France on $37m, South Korea on $32.1m, India on $26.5m and Germany on $26.1m.
Avatar: The Way of Water has earned $21.6m in the UK, $19.4m in Mexico, $15.8m in Australia, $13.8m in Italy, $12.9m in Brazil, $11.3m in Spain, and $7.3m in Indonesia.
Cameron reprises his original cast of Sam Worthington, Sigourney Weaver, Zoe Saldana and Stephen Lang, with Cameron's Titanic star Kate Winslet a new addition.