EXCLUSIVE: Icelandic director makes his feature debut for RVK Studios; he will direct four episodes of next series of hit TV show Trapped.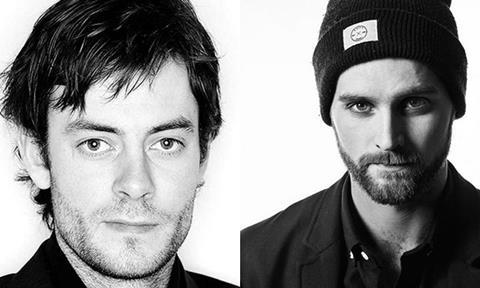 Börkur Sigthorsson started the 30-day shoot for his debut feature film Mules on February 24 in and around Reykjavik and at Keflavik airport in Iceland.
RVK Studios' Agnes Johansen and Baltasar Kormakur are producing, with the Icelandic Film Center and broadcaster RUV also on board. WestEnd Films handles sales.
The story is about two Icelandic brothers who hatch a drug-smuggling plan.
Johansen said: "They come from a difficult background but take very different paths with their lives. The older brother is a high-flying corporate lawyer, living an unsustainable life embezzling his clients.
"He has to pay back money so he recruits the help of his brother, who has been in and out of prison, to help him import drugs to Iceland.
"They hire an Eastern European woman to be the drug mule… There are serious bumps along the way, so it's about how they deal with it."
The two brothers (pictured above) are played by Gisli Örn Garðarsson (Prince of Persia), who just won Iceland's Edda Award for best supporting actor in Kormakur's The Oath; and Baltasar Breki Samper (Trapped), who is also Kormakur's son.
Polish actress Anna Próchniak (Warsaw '44, The Innocents) plays the drug mule and Denmark's Marijana Jankovic (Everything Will Be Fine, The Legacy) plays a policewoman who is the brothers' bête noire.
Kormakur and Jar City actor Ingvar Eggert Sigurðsson also take small roles in the film.
The budget for Mules is just under $2.1m (€2m). Longtime Kormakur collaborator Bergsteinn "Besti" Björgúlfsson serves as DoP. Elisabet Ronaldsdottir (John Wick) is editing - and has committed to edit the project as it shoots, for delivery in September.
Sigthorsson is a commercials veteran who also directed the award-winning short Come to Harm (featured in Screen in 2011).
"Borkur is a gem to be discovered. He's so visual, and he takes well to new challenges," Johansen said.
While developing Mules together (a three-year process), RVK also hired him to direct two episodes of their hit TV show Trapped.
"We've already signed him up to four episodes of Trapped 2," Johansen told Screen.
That second series is slated to start shooting in the autumn, with the writing team now working on the 10 episodes. Details of the plot are under wraps for now, but lead actor Ólafur Darri Ólafsson will return.
Kormakur himself will plan to direct one or two of the second series' episodes, if scheduling allows for production of his next film Adrift, starring Shailene Woodley.