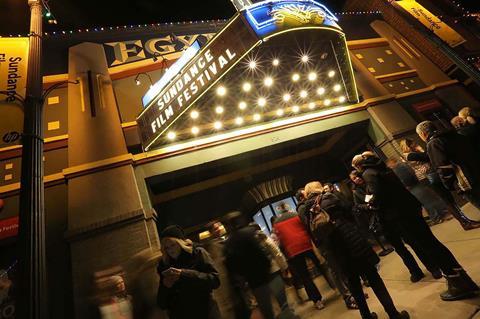 The world premiere of Babak Anvari's Under The Shadow follow-up Wounds has joined the 2019 Sundance Film Festival line-up as festival organisers unveiled on Thursday (20) five features and a special event.
Wounds (USA-UK) will screen in Midnight and stars Armie Hammer and Dakota Johnson in the story of a New Orleans bartender who experiences strange occurrences after he picks up a phone left behind at his bar.
Midnight will also feature the world premiere of Partrick Brice's Corporate Animals from veteran producer and Sundance regular Keith Calder, about a team-building trip that goes awry when an egotistical CEO and her team are trapped underground in New Mexico. Demi Moore and Ed Helms star.
The world premiere of Alex Lehmann's Paddleton (USA) joins the Premieres roster, and stars Mark Duplass, Ray Romano, and Christine Woods in the tale of the budding friendship between two misfit neighbors when the younger man is diagnosed with terminal cancer. Mark Duplass and Jay Duplass are among the producers.
Sundance selection The Blair Witch Project and The Hours And The Times join From The Collection. These films premiered in Sundance in 1992 and 1999, respectively.
The new Special Events addition is Pop-Up Magazine (USA) from producers Anita Badejo, Haley Howle, Derek Fagerstrom and Tina Antolini. The touring "live magazine" show includes filmmakers, authors, popular radio and podcast talent, and artists performing "vivid, multimedia stories accompanied by illustration, animation, film, photography, and an original live score."
Meanwhile previously announced Premieres selection The Boy Who Harnessed The Wind has been named the winner of the 2019 Alfred P. Sloan Feature Film Prize, and will screen at the Festival's Salt Lake City Opening Night. Sundance switched to announcing Sloan winners before the festival earlier this year.
The following seven films have been confirmed as Day One Films: Apollo 11, The Edge Of Democracy, Give Me Liberty, The Inventor: Out For Blood In Silicon Valley, The Last Tree, MEMORY - The Origins Of Alien, and Shorts Program 1. The closing night film will be Troop Zero.
The additions brings the total of features that will screen at Sundance to 117, of which organisers said 39%, or 45, of all films are directed by one or more women, 35%, or 41, are directed by one or more filmmaker of colour, 13% or 15 by one or more people who identify as LGBTQIA. One hundred and five features are world premieres.
Sundance Film Festival runs in Park City, Salt Lake City and at Sundance Mountain Resort from January 24-February 4, 2019.