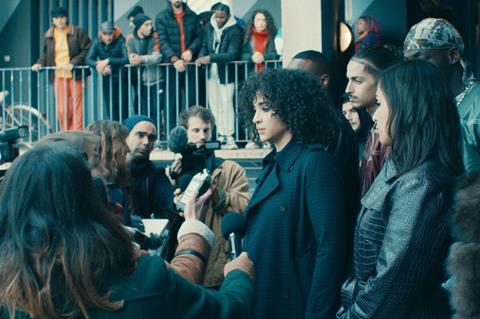 Bac Films and Wild Bunch International are kicking off sales on Mehdi Fikri's hot market title After the Fire at the European Film Market.
The film is Fikri's first feature following his short Descente screened in Horizons at Venice in 2021.
The incendiary drama about police violence features a starry cast including French talents Camelia Jordana, who won the Cesar for best newcomer for her role in Yvan Attal's Le Brio, and Sofiane Zermani, who stars in Netflix's French-language film No Limit. They star alongside Sofian Khammes, Makita Samba, Samir Guesmi and Sonia Faidi.
The film hones in on life inside of a family following police misconduct, this time showing all of the interfamilial inner turmoil and coming together in tragedy not usually seen in headlines or in media coverage.
Jordana's character grapples with the death of her younger brother, killed during a police arrest in the suburbs of Strasbourg, France. After not having spoken with her brother in the three years preceding the incident, she has to make peace with his death while exploring the police cover-up around the incident. Her battle for justice ends up threatening her romantic relationship and creating dissonance in the family.
The film is produced by France's Topshot Films and The Film. Bac Films is co-producing and will release the film in France. OCS, Netflix and France 3 are also on board for pre-financing and second window broadcast.
Bac Films and Wild Bunch International (which is undergoing a yet-to-be-announced name change) are partnering on global sales for the film, part of the two companies' deal inked in January of 2022. Per the collaboration, Wild Bunch International's head of sales Eva Diederix and her team handle sales for all Bac Film acquisitions and the two companies will come together on marketing efforts. Bac Films has reoriented its focus to film financing, production and acquisitions in addition to its distribution arm.
Bac and WBI will launch EFM sales with a new promo reel at the market.
Bac Films' president David Grumbach said the film "reminds us of hard hitting first feature films such as Les Misérables, but with a truly new take from a female perspective". He added the film was inspired by "different real-life cases that shows the journey of a family when they get that dreaded call from the police."
Further Bac Films-Wild Bunch International titles at EFM include Adil El Arbi and Bilall Fallah's Cannes 2022 title Rebel, Heloise Pelloquet's Wild Seas starring Cécile De France, Jean-Baptiste Durand's social coming-of-age story Junkyard Dog and Guillaume Bureau's period drama Loving Memories. Bac Films and Gebeka's animated title The Siren from director Sepideh Farsi is opening Berlin's Panorama section on February 16.