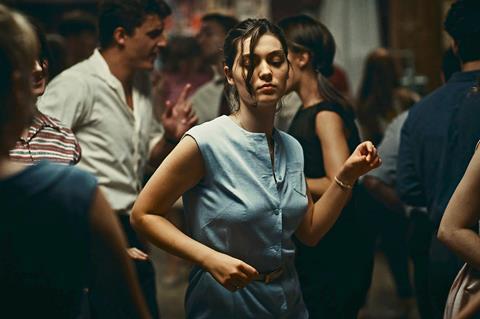 Julia Ducournau's Cannes Palme d'Or winner Titane, Audrey Diwan's Venice Golden Lion winner Happening and Cédric Jimenez's box office hit Bac Nord have made it onto the shortlist to be France's submission to the best international feature film category of the 2022 Oscars.
Under the selection two-part selection process, the producers and sales agents of the pre-selected films will present their Oscar campaign plans to France's Oscar selection committee on October 12, ahead of the final decision.
Titane is lead produced by Jean-Christophe Reymond at Kazak Productions and sold by Wild Bunch International (WBI). Alice Girard and Edouard Weil at Rectangle Productions produced Happening, which is also sold by WBI.
Bac Nord, which is also known as The Stronghold, is produced by Hugo Selignac at Chi-Fou-Mi Productions and sold internationally by Studiocanal. The film world premiered out of competition at Cannes in July.
This year's selection committee features one-year members director-screenwriters Florian Zeller and Julie Delpy, former WarnerMedia senior executive Iris Knobloch and producer Alain Goldman and sales agents, Memento International CEO Emilie Georges and WTFilms co-head Grégory Chambet.
They join permanent institutional members, Cannes Film Festival director Thierry Frémaux, Unifrance president Serge Toubiana and César Academy co-president Véronique Cayla.
Making the decision on which film will be the French submission will be a tough task this year. All three shortlisted films come with compelling reasons for why they should represent France.
Ducournau has a big cinephile fanbase in the US and Titane is enjoying a highly successful theatrical release in the US for Neon. It has just scored the biggest US opening weekend by a Palme d'Or winner since Fahrenheit 9/11 back in 2004 following its October 1 launch.
Adapted from French writer Annie Ernaux's 2019 novel about her illegal abortion in 1964, Diwan's Happening could also strike a chord with Academy voters for its relevant theme at a time when legal abortion rights for women are under pressure in the US and a number of other countries. Earlier this week, IFC and FilmNation announced they had taken US rights.
Marseille-set police corruption thriller Bac Nord, which is loosely based on real events, has been a hit at the French box office and generated buzz worldwide on Netflix. It currently stands fourth in France's 2021 box office, having generated 1.9 admissions for a gross of roughly $14.8m.
As well as directing Happening, Diwan also co-wrote the screenplay for Bac Nord with Jimenez.
France regularly makes it into the final nominee long and shortlists in the best international picture category, most recently with Ladj Ly's debut picture Les Misérables in 2020. It has not triumphed in the category since 1993 with Régis Wargnier's Indochine, although Michel Hazanavicius' black-and-white silent film The Artist won best film in 2012.
The 94th Academy Awards will take place on March 27, 2022 at the Dolby Theatre in Los Angeles.