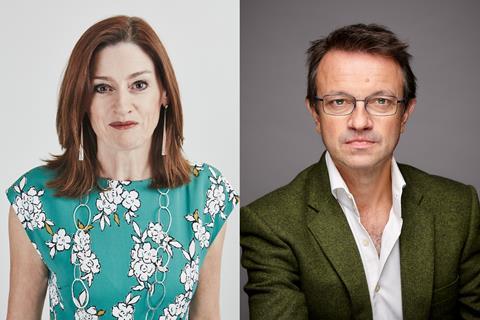 Bafta chief executive Amanda Berry has today announced that she intends to step down from her role in the autumn of 2023 after 25 years at the arts charity.
Bafta chief operating officer Kevin Price will leave in September 2022, after 20 years working alongside Berry.
Price will step up as acting CEO for three months prior to him leaving in September 2022 when Berry takes planned extended leave.
Berry will oversee the recruitment process for Price's successor when he leaves next autumn, and the board will begin the process to appoint Berry's successor the following year.
Berry joined the arts organisation in 1998, having previously been a theatrical agent and in television production. She became CEO in 2000. She is also a director of Bafta Enterprises, Bafta Media Technology, the Bafta albert consortium and 195 Piccadilly, Bafta's hospitality and corporate hire business. She was instrumental in adopting the industry diversity standards into the film awards rules in 2019 and implementing a review in 2020 following the lack of diversity in key film awards categories.
"Under her leadership, she [Berry] has cemented Bafta's annual film awards ceremony as one of the most important and credible film industry occasions in the world," said Krishnendu Majumdar, Bafta chair. "Her passion for supporting talent and her steadfast belief that 'talent is everywhere but opportunity is not' is evident in the huge expansion of Bafta's year-round global learning and talent development programme.
"From creating the 'Brits to Watch' in 2011 which has gone on to become the globally recognised talent initiative Breakthrough, to the well over 200 learning and new talent events that Bafta delivers every year, Amanda has ensured Bafta's purpose has stayed at the heart of the organisation."
"In 2023 I will have been at Bafta for 25 years," said Berry. "When I first joined Bafta I honestly thought I would stay for three or four years, but my passion, dreams and ambition for the organisation just kept growing. As we approach Bafta's 75th anniversary next year I have reflected on what I, Kevin and the truly brilliant team at Bafta have achieved, and it feels like the right time to plan to pass on the mask.
"The formal re-opening of our redeveloped HQ at 195 Piccadilly next year is a landmark moment, and one of the biggest in Bafta's history. This new creative hub and centre of excellence will enable a further dramatic expansion of our learning and talent programme, pivotal to Bafta's charitable remit."
Before joining Bafta, Price was commercial director for the international examinations board Trinity College London. During his tenure, he established Bafta Media Technology and has been chair of the Bafta albert consortium for the past 10 years. He has overseen the recent re-development of 195 Piccadilly, a project spanning 12 years.