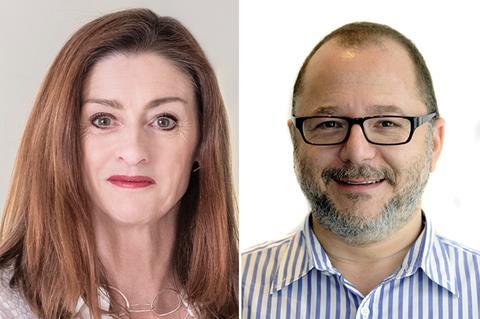 Amanda Berry, CEO of Bafta, and Marc Samuelson, chair of the Bafta Film Committee, have welcomed this year's nominations which come after a year of soul-searching by the organisation.
This was spurred by last year's nominations which were widely deemed unrepresentative of the wealth of films and talent on offer. Bafta subsequently launched a far-reaching and ongoing overhaul of its membership and voting procedures. One of the main changes to the voting process has been the introduction of juries and chapter voting for all categories apart from best film up to this nominations stage.
"The number of films nominated this year is 50, up from 39 [last year]," said Samuelson. "A lot of the interventions we made this year were about getting people to watch more films. And that's happened. We've had over 150,000 views on the Bafta portal. And that's not the only way people are watching.
"Nothing is sitting there with 12 nominations," he continued. "I feel when you look down at what is in each category, 'discerning' is a good word [to describe the choices]."
"There have been so many things we have done as part of the review and the most important thing was getting more people to watch more films," said Berry." Yes, the juries have taken us to the nominations but we are seeing the sheer number of films that people have seen. We have been able to get all of the films up on Bafta View, our viewing platform. In many cases distributors were amazing and got them up really early.
"We did create that level playing field we were desperate to create as there weren't the big marketing spends around films," she suggested. "Most films weren't seen in the cinema. We randomly allocated 15 films to each member but we know members watched way more than that. It all comes down to making sure great work has the opportunity to be seen. We wanted to make sure that people voting had seen the films. With the jury, you could guarantee that every single jury member had seen every single film."
Samuelson speculated the total 7.000 voters have chosen carefully how to spread their votes.
"What I wonder is that [through] the interventions that we have made, [whether] there has been a pent-up need to separate and be much more specific about each category. You can look at virtually any category and say, 'Well that's not exactly the same stuff as best film'. I think what has happened is that there was a wish to not have a run. It's very much connected to the sheer number of films that people are able to see.
"When people were watching the films that everyone was telling them were the main awards contenders based on marketing and based on what in the industry is considered an awards film and all of those questions of unconscious bias that come into that… Once that was freed up, you see great variation across each category and that's maybe something that people wanted to do."
For the first time this year, a chapter of 677 actors and 810 directors voted in those respective categories to create first the longlists and now the nominations.
Additionally, between 2,500 to 5,000 voting members opted in to vote in the first round to create the longlists for the outstanding British film, best documentary and best foreign-language film.
Ceremony
The film awards will be broadcast over two nights on April 10 and April 11 on the BBC in the UK with further detail to be confirmed in the coming weeks. The first event will showcase the craft categories and the second, broadcast in the awards' regular primetime Sunday night slot on BBC One, will celebrate the other nominations.
"We are not allowed to have a [live] audience under current guidelines," said Berry. "We're working through it all now. Right up until Christmas I had hoped we would be able to have an audience, not 5,000 people but a substantial audience. We're absolutely determined to make it a real celebration of everybody who is nominated and the art of filmmaking.
"We think it's important that we celebrate film, particularly this year where everybody has had such a challenging time," Berry continued. "The industry has managed to keep going, keep filming. And people are looking forward to the cinemas reopening. This was the right year to do more and not to cut back."
It is not known if the events will take place in a studio or at the Royal Albert Hall, where previous ceremonies have been held, and whether they will actually take place ahead of the two broadcasts.
"There are lot of other surprises and ideas going in," promised Samuelson.
Ongoing work
Berry and Samuelson emphasised the work goes on to ensure the Bafta Film Awards are as representative and inclusive as they can be. The results of the membership survey are due to be announced in the next month or so, possibly but not definitely before the awards.
"I certainly would not say, 'Okay, well that's it'," said Samuelson of how he feels today compared to nominations day 2020. "I think the fact the nominations are discerning is encouraging and we've made some progress. The breadth of films, the breadth of work that is included is very encouraging and we'll continue to review.
"There is a film committee meeting at the end of April and the review will begin. The steering group which oversaw the review will continue to sit and we'll meet quarterly as well. We'll look at everything and say, 'Where do we go now? What's the next thing?'
"The industry is changing so much, society is changing so much and we have to keep an eye on it. Interventions that are quite technical can be tweaked, adjusted."