EXCLUSIVE: Family drama unites Golden Globe winner Huppert with daughter Lolita Chammah on the big screen.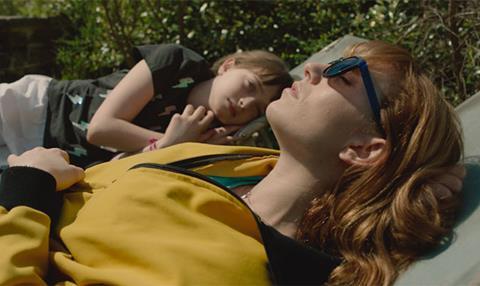 Paris-based Luxbox has boarded sales on Laura Schroeder's family drama Barrage, which unites Isabelle Huppert and daughter Lolita Chammah on the big screen.
The film will get its world premiere in the Forum section of the 2017 Berlinale.
Chammah stars as Catherine, a young woman who returns to Luxembourg after a 10-year absence to spend time with her daughter Alba, who she abandoned to the care of her mother Elisabeth (Huppert).
Alba, played by French child actress Themis Pauwels, gives Catherine a cold reception while Elisabeth is equally unwelcoming, perceiving her daughter as a threat to her role as the child's main carer.
In a bid to rekindle her motherly bond with Alba, Catherine "kidnaps" her daughter and takes her on a trip to a lake in the north of the country. The main obstacle to their relationship, she discovers, is herself.
"Laura Schroeder offers a precious setting for rising French actress Lolita Chammah to express the large scope of her creativity. The film also offers a brilliant and sensitive dialogue between Chammah and Isabelle Huppert, a perfect face to face between a promising actress and a goddess of acting at the top of her mastery," said Luxbox co-chiefs Hedi Zardi and Fiorella Moretti in a joint statement.
Having just won the Golden Globe for best actress for her performance in Paul Verhoeven's Elle, Huppert is currently one of the front-runners in the same category at the Oscars.
She and Chammah previously shared the big screen in the 2010 comedy Copacabana about a free-spirited woman who takes on a day job as a time-share saleswoman in a grey, Belgian beach resort to prove she can hold down a steady job and win her daughter's approval.
Barrage is the second feature for Luxembourgish film-maker Schroeder after the family adventure Schatzritter. Other recent credits include episodes of documentary series Routwäissgro observing the lives of different people living in Luxembourg.
Producer Vincent Quénault at Red Lion, the Luxembourg company behind the film, said the company was thrilled it would premiere at Berlin and "pleased" to be embarking on a partnership with Luxbox.
Zardi and Moretti noted Barrage was in keeping with one of its aims to "discover new voices of cinema and especially develop a line-up with strong female directors".
Other titles on Luxbox's current slate include Lithuanian director Sharunas Bartas's upcoming picture Frost co-starring Lithuanian actor Mantas Janciauskas, French actress Vanessa Paradis and Poland's Andrzej Chyra as a young volunteer and two reporters thrown together on a humanitarian aid convoy to Ukraine.
The company is also handling Bruno Dumont's musical film Jeanette exploring the early life Joan of Arc and the spiritual and patriotic awakening that prompted her to join the struggle against the English in the latter stages of the Hundred Years' War. It is currently in post-production.
Huppert is also due to hit screens this year in Anne Fontaine's Marvin and Michael Haneke's Happy End.