APRIL 4 UPDATE: Disney's Zootopia becomes the fifth highest grossing original IP animated release of all time with $787.6m.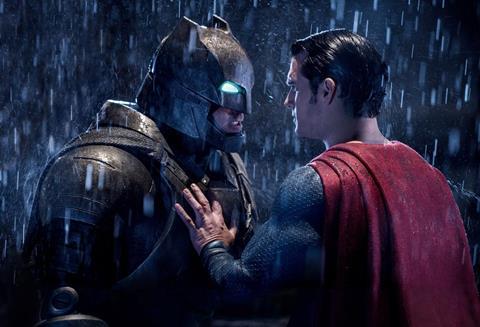 WARNER BROS PICTURES INTERNATIONAL
UPDATE: Batman v Superman: Dawn Of Justice continued to reign worldwide with a $137.1m global weekend for $681m to date.
Internationally, the epic superhero battle took an extra $85.25m from nearly 28,000 screens in its 67 markets for $422.5m after two weeks in play. It has now overtaken Man Of Steel's final overseas haul of $377m.
In Latin America, it is now the third highest Warner Bros film of all time in just 11 days, while it has become the biggest WB film of all time in Mexico with $29.8m and in Brazil with $21.9m.
Batman v Superman took $12.8m for $85.1m over the Tomb Sweeping holiday in China, while the UK pulled in a further $6.6m (£4.7m) for a 45% share of the top five films and $39.9m (£27.8m) to date.
Germany added $3.2m for $14.3m, Australia $3.5m for $17.3m, France $3.4m for $14.2m and South Korea $2.8m for $14.4m.
Globally, Batman v Superman has also surpassed Man Of Steel as well as over 20 other superhero outings, including Thor: The Dark World, Iron Man (and its sequel), Captain America: The First Avenger and Ant-Man.
Over its second weekend, the film also passed $50m in IMAX box office to reach $53.4m, $28.1m coming from overseas.
WALT DISNEY STUDIOS MOTION PICTURES INTERNATIONAL
Zootopia celebrated a double milestone this weekend as it crossed the $500m mark internationally and became the fifth highest grossing original IP animated release of all time globally with $787.6m.
Buoyed by school holidays, the well-received animation hopped to $30m from its 52 territories for a terrific $511.7m to date. China fell just 25% on its way to $12.8m for $215.3m, while Korea boosted 11% in its seventh weekend and has taken $23.4m.
Other holdover highlights came from the UK (a drop of 24% for a tally of $18m), Australia (increase of 1% for tally of $11.1m) and boosts of 116%, 10% and 6% in Belgium, Poland and Sweden, respectively.
Zootopia (known as Zootropolis in some territories) opens in New Zealand next weekend.
ASIA RELEASES
Edko Films' action thriller The Bodyguard shot to an estimated $25m from its six territories, according to comScore.
Yang Qing's comedy Chongqing Hot Pot posted a $19m debut from three territories, while Le Vision's Who Sleeps My Bro? grossed $10m from its one territory of release.
FOX INTERNATIONAL
UPDATE: Kung Fu Panda 3 was boosted by the biggest ever animated opening in India on its way to a $19.3m weekend from its 70 markets for $323.8m to date.
The threequel posted a $2m bow in India to grab the record and also achieved Fox's fifth biggest ever opening in the market. Another highlight came from an excellent chart-topping $4.1m debut in France.
Among the holdovers was the UK with $1.1m for $15.8m to date, Australia ($1.4m for $4.9m) and Germany ($843k for $5.5m). It opens in its final major market of Holland on April 13.
The Revenant unearthed a further $3m from its 36 markets for $332.6m to date. The majority of its weekend haul came from its $1.63m third weekend in China for $56.4m.
Excluding the UK (where it's being distributed by Lionsgate), Eddie The Eagle flew to a $2.6m international bow from its 43 markets. Germany was the top Fox market with a $729k debut from 490 sites.
It arrives in South Korea and Russia next weekend.
Deadpool has now crossed the $750m mark at the worldwide box office to stand at $752m, $399.5m coming from its overseas markets.
UNIVERSAL PICTURES INTERNATIONAL
Opening in Brazil with $819k from 320 dates, My Big Fat Greek Wedding 2 added $5.6m from its 19 territories for $18.4m.
Australia and the UK held well in their second weekends with $2.1m for $7.3m and $856k for $3.5m, respectively. The comedy sequel has now crossed $50m worldwide, and will open in Greece, Cyprus, French-Switzerland and Panama next weekend.
Ride Along 2 drove to a further $659k after opening in France and Russia for $31.8m to date, while acclaimed horror The Witch opened in Argentina with a $347k debut on its way to a $595k weekend for $6m.
Hail, Caesar! stands at $30.8m internationally with four releases to come, as The Danish Girl reached $52.5m having added $129k in Japan in its second weekend.
Universal launches fantasy sequel The Huntsman: Winter's War next weekend in 18 territories, including Australia, Germany, Mexico, Spain and the UK.
PARAMOUNT PICTURES INTERNATIONAL
UPDATE: 10 Cloverfield Lane moved into 17 new markets this weekend, taking an overall $4.5m from its 27 markets for $18.2m so far overseas.
Russia led the way with an $814k debut from 851 cinemas, closely followed by Germany's $726k bow from 401 locations. Out of the holdovers, the UK grossed an extra $685k for $6.4m and France posted a $292k third weekend for $2.7m.
The acclaimed thriller opens in 16 more markets next weekend, including Brazil, Korea, Portugal, Czech Republic and South Africa.
Michael Bay's 13 Hours shot to $1.3m from its 15 markets, including three new openings, for $14.1m to date.
LIONSGATE INTERNATIONAL
UPDATE: From its 79 markets, The Divergent Series: Allegiant took a further $4.6m for $79.6m to date. It lands in Australia on April 14.
Allegiant stands at $136m worldwide.
SONY PICTURES RELEASING INTERNATIONAL
Religious drama Miracles From Heaven launched with an excellent $2.3m in Mexico from its 864 screens, charting second behind Batman v Superman. Audience reactions have been strong, so Sony expect a lengthy run.
It stands at $3.4m internationally to date.
NU IMAGE
Action sequel London Has Fallen added an estimated $2.2m from its 39 territories for $60m.