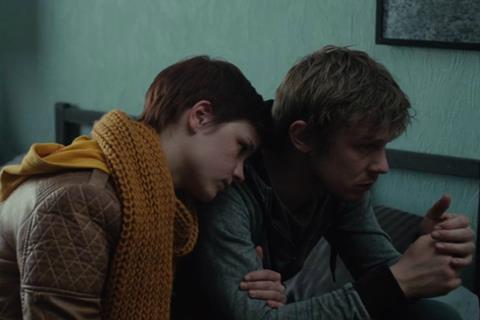 A host of new Flemish TV series, at script stage and in production, were pitched today at Connext, the Flanders Image industry event in Ghent.
Flemish TV is having a moment thanks to the international success of shows like Tabula Rasa and 13 Commandments. International companies attending Connext to scout new series this year included Netflix, Attraction Distribution, Dynamic Television, Global Screen, Global Series Network, Just Film, Serie Series, Series Mania, Wild Bunch TV and ZDF.
Some of the top pitches were A Good Year, about a group of men who try to make a fortune selling wine they say is from the cellar of Adolf Hitler; cross-cultural comedy drama Soil; and the anticipated second season of Beau Sejour, taking the same concept (a deceased person investigates their own death) but moving the setting to a boat.
Of the works in progress, industry experts in the audience were impressed by the international potential for shows like The Twelve and Floodland.
Full descriptions below.
Connext TV pitches
Albatros, dir Wannes Destoop, wrs Gilles Coulier, Dominique Van Malder, Tom Dupont, prod Gilles Coulier (De Wereldvrede)
A group of people at a weight loss bootcamp also explore their psychological baggage. Comedy/drama 8x52'.
The Bank Hacker, dirs Frank Van Mechelen, Joost Wynant, wrs Kristof Hoefkens, Pieter Van Huyck and Ivy Vanhaecke (De Mensen)
A Flemish computer geek is drawn into gang of con men who plan the biggest bank heist in history. Crime drama 8 x 50', sold by Red Arrow.
Beau Sejour 2, dirs Nathalie Basteyns and Kaat Beels, wrs Sanne Nuyens, Roel Mondelaers, Bert Van Dael, prods Ivy Vanhaecke and Pieter Van Huyck (De Mensen)
Second season of the hit show (also known as Hotel Beau Sejour), which was shown on Netflix. The first season was set in a hotel, this second season will be set on a boat – a dead naval officer has to investigate his own murder. Crime drama 10x50', sold by Lagardere Studios Distribution.
Blackout, dir Joel Vaanhoebrouck, wrs Bas Adriaensen, Geert Van Rampelberg, Philippe De Schepper: prods De Schepper, Helen Perquy (Jonnydepony)
The Belgian Prime Minister is forced to prolong a blackout of the power grid to save her daughter's life. Thriller/action/drama, 10x48', sales by Lagardere Studios Distribution.
A Good Year, dir Kadir Balci, wrs Jean-Claude van Rijckeghem and Pierre De Clercq, prods Dries Phlypo and Bruno Wyndaele of Mockingbird Productions.
In contemporary times, a group of men think they can make a fortune with wine they discover near Hitler's Ardennes headquarters. Drama/crime/comedy series 8x45'.
Please, Love Me 3, dir Toon Slembrouck, wr Jimmy Simons, prod Peter Bouckaert
Drama/comedy about blended families, 13x30', Sales by Warner Bros International TV.
Soil, dirs Bilall Fallah and Adil El Arbi
, wrs Zouzou Ben Chikha, Dries Heyneman,
Wannes Capelle
, prods Jan De Clercq, Annemie Degryse of Lunanime
Instead of repatriating the bodies of Muslim Moroccan immigrants after their deaths in Belgium, a young man hatches a get-rich-quick scheme to simply bring Moroccan soil to Belgium to bury them in. Comedy/drama 8x45'.
Connext TV Works in Progress
Callboys 2, dir Jan Eelen
, wrs Elen, Youri Boone, prod Hilde De Laere (FBO)
Comedy/drama about male sex workers also trying to start a sex toy business, 6x45', sales by Lagardere Studios.
Fiskeparke, wr/dirs Filip Lenaerts and Joeri Vlekken, prods Ivy Vanhaecke, Pieter Van Huyck,
Tine De Meulenaere (De Mensen
).
A true crime parody series. 7x35'
Floodland, dir Erik de Bruyn
, wrs Erik de Bruyn, Rik D'hiet
, prods Peter Bouckaert (Eyeworks) and Chantal van der Horst (Column Film)
A Flemish psychiatrist and a Dutch policewoman investigate a brutal murder in the coastal borderland between Flanders and Zeeland. Crime/mystery, 8x50', sold by Federation Entertainment.
Gina & Chantal, dir Thomas De Cock, wr Gerrie Van Rompaey
, prod Pieter Nolf (Sylvester)
With the help of her cynical cleaner, a woman unravels the mystery of her husband's car accident and a strange payment in her mailbox. Drama, 10x45'.
Over Water 2, dirs Inti Calfait, Dirk Verheye, prods Kato Maes, Tom Lenaerts; wr Paul Baten Gronda
John Beckers is released from prison but is more ruthless than ever, trying to get even with all those who betrayed him. Drama, 10x45', sold by ZDF.
Phil Frisco, dirs Koen Van Sande, Raf Reyntjens
; prods David Vermander (Cartouche), and Dirk Ver Hoeye (Deds)
An executive of an ice cream company stages his own kidnapping to start a new life with the ransom money. Drama/comedy 10x48'.
Studio Tarara, dirs Tim Van Aelst, Wim Geudens
; wrs Van Aelst, David Vennix
; prods Sofie Peeters, Ravian Van Esch (Toreador)
Behind the scenes of 1990s sketch show, the actors lose themselves in a spiral of self-destruction. Comedy/drama/crime, 8x50'.
The Twelve, dir Wouter Bouvijn, wrs Bert Van Dael, Sanne Nuyens
; prod Peter Bouckaert (Eyeworks)
Following 12 people who picked for jury duty on
a sensational murder case. Crime/mystery, 10x50', sold by Federation Entertainment.