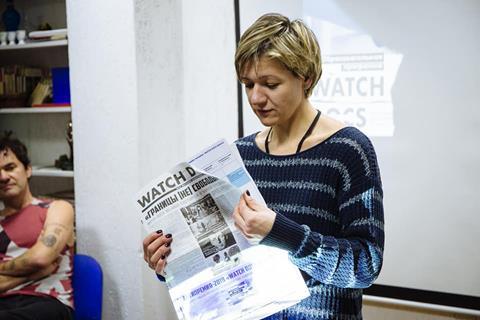 Tatsiana Hatsura-Yavorska, director of the Watch Docs Belarus film festival, was released from custody in Minsk yesterday (April 15).
Hatsura-Yavorska was arrested in Minsk on April 5 for her role in organising an exhibition celebrating Belarusian health workers. One of the charges was "raising money for protests" against the government of President Alexander Lukashenko.
The Helsinki Foundation for Human Rights in Warsaw confirmed to Screen that the charges against Hatsura-Yavorska have been dropped, with the authorities informing her that "currently there is no more need to keep you behind bars."
International festivals such as Berlin, Cannes, Sundance and IDFA, as well as industry bodies including The Human Rights Film Network, the International Coalition for Filmmakers at Risk and the European Film Academy, signed an open letter urging the government of Belarus "to respect Tatsiana Hatsura-Yavorska's right to freedom of expression and personal freedom."
Meanwhile, Hatsura-Yavorska's Ukrainian husband Volodymyr Yavorski, one of the founders of human rights film festival Docudays UA in Kyiv, has been forced to leave Belarus with no right of return for 10 years.