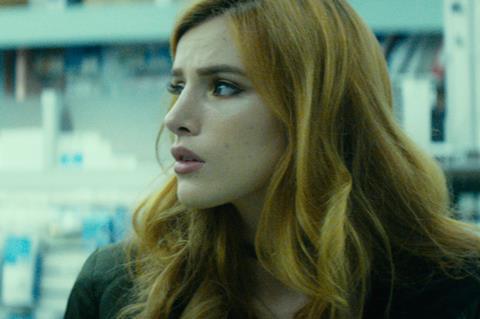 RLJE Films and UMC (Urban Movie Channel), both under RLJ Entertainment, have acquired North American rights to Ride starring Bella Thorne, star of Sundance hit Assassination Nation.
The thriller from Keith Kjarval's Unified Pictures centres on a young woman involved in a rideshare that becomes a psychological fight for survival.
Kjarval produced with Tyler Jackson, and Sefton Fincham, with Fyzz Facility and Unified Film Fund II financing. Robert Jones, Wayne Marc Godfrey, David Grace, Mike Rowe, and Levi Sheck and Dean Buchanan served as executive producers.
Jessie T. Usher and Will Brill also star in Jeremy Ungar's feature directorial debut. RLJE plans a national theatrical, VOD, and digital HD release in autumn. Blue Fox Entertainment introduced international sales at the EFM in Berlin.
"With its talented young cast and thrilling plotline, we know audiences are going to be drawn to Ride," said Mark Ward, chief acquisitions officer for RLJE Films. "The story is incredibly relevant to today's culture."
"In Ride, Jeremy created a quintessential millennial thriller wrought with tension and fuelled by our darkest fears related to the cultural phenomenon of ride-sharing," said Kjarval. "We could not be any more pleased to join forces with RLJE, who continue to have their fingers on the pulse of genre fans everywhere."
RLJE's Ward and Jess De Leo negotiated the deal with Endeavor Content on behalf of the filmmakers.