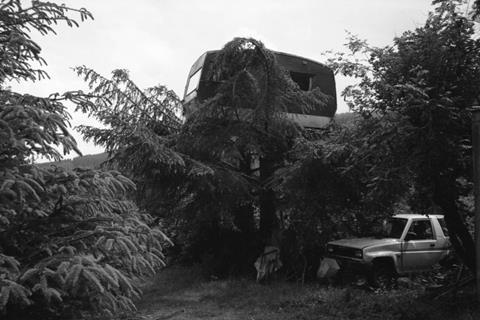 French festival FIDMarseille has revealed the projects set to be presented at project development event FIDLab, including upcoming features from the UK's Ben Rivers and last year's grand prix winner Carolina Moscoso.
The 13th edition of the incubator event, known for its focus on experimental films spanning both documentary and fiction, will take place online – as it did for the first time last year – from June 14-18. The main FIDMarseille festival is planned to go ahead in-person from July 19-25.
FIDLab will include 16 projects, selected from 502 submissions, marking a 60% increase over the past two years.
Full list of projects below
They include Bogancloch from UK filmmaker Rivers, which revisits the subject of his 2011 CPH:DOX and Venice award-winner Two Years At Sea and its central character, Jake Williams, who lives alone in the Clashindarroch forest in the Scottish highlands.
Produced by the UK's Urth Films and Iceland's Akkeri Films, Bogancloch will consider what it means to live an isolated life in the 21st century and in the midst of the Covid-19 pandemic.
Also selected is I'll Never Be A Cop by Chilean documentary filmmaker Moscoso, whose debut Night Shot won the grand prix at last year's FIDMarseille.
Moscoso's latest is based around 30 years of footage filmed by her uncle, which reveals that almost all the men in the filmmaker's family are policemen, offering an intimate portrait of the PDI – Chile's investigate police. It is produced by Camila José Donoso of Transparaíso Cine.
On the fiction front, FIDLab has selected Re-Writing by Spanish filmmaker Victor Iriarte, which will star Cannes award-winning actress Lola Dueñas (Volver) and Ana Torrent, whose credits include Isabel Coixet's It Snows In Benidorm and Alejandro Amenábar's Tesis.
The €1.2m melodrama centres on an encounter between two women who reveal their life stories to each other. What follows is a tale of violence, love, robbery and revenge in the spirit of a film noir.
Producers are Andrea Queralt for France's 4 A 4 Productions; Isaki Lacuesta and Isa Campo for Spain's La Termita Films; and Tamara Garcia for Spain's Atekaleun. Lacuesta is a double San Sebastian Golden Shell winning director for 2011's The Double Steps and 2018's Between Two Waters.
The lab will also spotlight both Dutch and French-speaking Belgian productions, with a delegation of Belgian producers being lined up to present ongoing projects. It will also award nine prizes offering development and post-production support.
This year's jury comprises Colombian producer Diana Bustamante Escobar, Italian curator Leonardo Bigazzi, and US exec David Schwartz, manager of theatrical programming for Netflix.
FIDLab projects 2021
A Night Of Knowing Nothing (Fr-India)
Dir: Payal Kapadia
Ana Doesn't Want To Be Seen Dancing (Mex)
Dir: Gabriel Herrera Torres
Bogancloch (UK-Ice)
Dir: Ben Rivers
Dead Lands (Isr)
Dir: Daniel Mann
Dialogues Of Exile (Fr)
Dir: Eyal Sivan
Estados Generales (Peru-Sp)
Dir: Mauricio Freyre
It Is At This Point That The Need To Write History Arises (Port)
Dir: Constanze Ruhm
Jeune Cinema (Fr)
Dir: Yves-Marie Mahé – France
The Stuntwoman (Fr)
Dirs: Virginie Barré, Julien Gorgeart
To Die On Your Feet (Chile)
Dir: María Paz González
I'll Never Be A Cop (Chile)
Dir: Carolina Moscoso
Re-Writing (Fr-Sp)
Dir: Víctor Iriarte
Spilliaert (Bel)
Dir: Lisa Spilliaert
Swarm (Ger)
Dirs: Anja Dornieden, Juan David González Monroy
Tehran, City Of Ambitions (Iran)
Dir: Saeed Nouri
Twittering Soul (Lith)
Dir: Deimantas Narkevičius