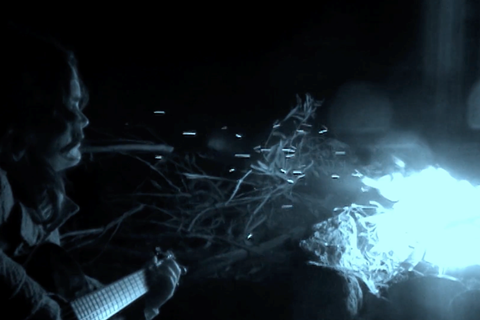 Carolina Moscoso's Night Shot has won the Grand Prix at the Marseille International Film Festival (FIDMarseille).
The Chilean film marks Moscoco's debut feature and uses text, candid footage, animation and sound design to confront her past trauma: a violent rape that occurred eight years previously when she was a film student. It was produced by Santiago-based El Espino Films.
Scroll down for full list of winners
The feature received its international premiere at the festival that ran from July 22-26 in southern France. It was the first physical film event of its kind in Europe since the start of the coronavirus pandemic which has resulted in nationwide lockdown's around the world.
In the 17-strong international competition, a special mention went to French filmmaker Olivier Derousseau's Northern Range, which had its world premiere at the festival. Produced by Horizon Inverse, it centres on an area on France's north coast between Dunkirk and Calais, using music to accompany images of industry and people throughout the region.
The Georges De Beauregard International Prize went to Tatiana Mazú González's Shady River, which will be awarded a DCP copy of the film. The Argentinian film is centred on the Patagonian mining town of Rio Turbio where the director wages war against a rule stating women are forbidden to go down its wells because of the bad luck it would bring.
A special mention was given to Zaho Zay, directed by Maéva Ranaïvojaona and Georg Tiller. The Austria-France-Madagascar is produced by the director's Subobscura Films and Tomsa Films.
The international jury was comprised of Nobuhiro Suwa, Manon De Boer, Silvia Cruz, Michel Lipkes and Adrian Paci.
The Grand Prix in the French competition went to Lech Kowalski's This Is Paris Too. The veteran filmmaker, who won the Venice Horizons Award in 2005 with East Of Paradise, follows a Native America and the people he encounters on the streets of Paris. It is produced by Revolt Cinema.
A special mention was given to Chloé Galibert-Laîné's Forensickness.
The Georges De Beauregard National Prize was awarded to Nathan Nicholovitch's The Seeds We Sow, a fiction-documentary hybrid set in a suburban Paris high school. It is produced by D'un Film l'Autre. A special mention was granted to Thomas Bauer's Fixed Barricade At Hamdalaye Crossing.
The French competition jury included Zita Hanrot, Janja Kralj, Gonzalo DE Pedro, Jorge León and Claude Schmitz.
FIDMarseille 2020 winners
Grand Prix Of The International Competition
Night Shot (Chile)
Dir. Carolina Moscoso
Special Mention
Northern Range (Fr)
Dir. Olivier Derousseau
Georges De Beauregard International Prize
Shady River (Arg)
Dir. Tatiana Mazú González
Special Mention
Zaho Zay (Fr-Aust-Mad)
Dirs. Maéva Ranaïvojaona, Georg Tiller
French Competition
Grand Prix Of The French Competition
This Is Paris Too (Fr)
Dir. Lech Kowalski
Special Mention
Forensickness (Fr-Ger)
Dir. Chloé Galibert-Laîné
Georges De Beauregard National Prize
The Seeds We Sow (Fr)
Dir. Nathan Nicholovitch
Special Mention
Fixed Barricade At Hamdalaye Crossing (Guinea-Fr)
Dir. Thomas Bauer
First Film Prize
Episodes - Spring 2018 (Fr)
Dir. Mathilde Girard
Special Mention
Heliconia (Fr-Col)
Dir. Paula Rodríguez Polanco
CNAP (National Centre For Visual Arts) Award
Explaining The Law To Kwame (Isr)
Dir. Roee Rosen
Special Mentions
Forensickness (Fr-Ger)
Dir. Chloé Galibert-Laîné
Soon It Will Be Dark (Ger)
Dir. Isabell Heimerdinger
Flash Competition Prize
Explaining The Law To Kwame (Isr)
Dir. Roee Rosen
Special Mentions
No Weight Whatsoever (US)
Dir. Mauricio Arango
The Rebirth Of The Carare (Col)
Dir. Andrés Jurado
Alice Guy Prize
Voin (Fr-Bul)
Dir. Gaëlle Boucand
Special Mention
A Potentiality (US)
Dir. Dana Berman Duff
Renaud Victor Prize
Zaho Zay (Fr-Aust-Mad)
Dirs. Maéva Ranaïvojaona, Georg Tiller