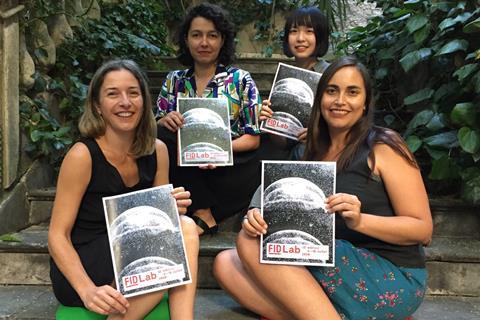 A unique online edition of FIDLab, the project incubator event of France-based International Film Festival FIDMarseille, kicks off today (Monday July 6) with 15 innovative works from across the world.
Participants usually gather in Marseille for meetings, running alongside the main festival, but the lab has been forced to move online this year due to the Covid-19 pandemic which has made it difficult for the international industry to travel.
FidLab has retained its original dates and will run until July 10 but is taking place over two weeks ahead of a slimmed-down version of its parent festival FIDMarseille, which has delayed its dates to July 22-26 as a result of the pandemic. It is running as a physical festival.
FIDLab chief Fabienne Moris said she and her team had decided to treat the iteration of the Lab as an online event as an opportunity. "Once we got over the disappointment of not being able to welcome everyone physically, we decided to focus on the fact that as a virtual event we could connect with a bigger and wider range of professionals who wouldn't have been able to make it to Marseille in any case," Moris explained. "With people stuck at home over the last few months, we've found producers have more time on their hands to look at projects and get involved."
"We've been working hard over the last few weeks to attract the attention of professionals from across the world for the projects in our selection," she continued. "For example, we created profiles for each project on FestivalScope Pro ahead of time with the synopsis, directors note and links for their previous works."
The team also worked closely with the directors of the 15 selected projects to create 15-minute presentations, which have gone live for professionals on the FIDLab site today.
"The idea was to create video presentations that reflect the projects, giving a sense of the personality of the director and the research and development they've done as well as the type of film they want to make," said Moris.
Like its parent festival, FIDLab is known for supporting innovative, boundary-pushing works. A number of the projects are hybrid in nature, mixing different genres such as fiction, documentary, animation and gaming. Since its launch in 2009, it has supported 128 projects, 77 of which have been completed. Recent works supported by the initiative include Palestinian director Kamal Aljafari's Unusual Summer, which was in competition at this year's virtual Visions du Réel, and Australian filmmaker Pia Borg's Michelle Remembers, which was recently selected for the TorinoFilmLab.
Diverse selection
"The selection is very diverse in terms of the nature of the projects and their geographical spread," said Moris.
It includes upcoming works from buzzy independent Chinese animator Lei Lei, celebrated US artist Sharon Lockhart as well as rising directorial duo Sergio da Costa and Maya Kosa, whose Bird Island world premiered in Locarno's Filmmakers of the Present competition last year.
Lei's new animation work Ningdu is inspired by his family's experiences in China from the 1950s, during key chapters in its history such as the Great Leap Forward and the Cultural Revolution. It revisits themes he explored in his debut feature Breathless Animals, which debuted in the Berlinale Forum in 2019.
Los Angeles-based Lei is producing under the banner of his banner C-Ray Studio with Isabelle Glachant at Hong Kong-based Chinese Shadows.
Further animation works in the selection include Marseille-based French-Israeli filmmaker Mili Pecherer's hybrid Old Testament-inspired series The Goddamn Particle, which gives a different spin on Biblical tales such as 'Abraham And The Sacrifice Of Issac' and 'Noah's Ark'. It will also tap into the computer game storytelling codes as part of the creative process.
Lisbon-based filmmaking duo da Costa and Kosa are participating with their hybrid work Xiao Li, exploring political and economic undercurrents in Portuguese society through the disparate realities of two Chinese immigrants who have made the country their home. Its protagonist is an Albino Chinese immigrant, who runs a clandestine massage parlour. Struggling to make ends meet, she wonders whether she should accept the offer of a job to pose as the Virgin Mary from a wealthy compatriot who has also made the city his home under Portugal's "golden visa" scheme and bought a share in the Sanctuary of Fatima, a major Catholic pilgrimage site.
Further hybrid works in the selection include Julia Pello's Grand Portage, exploring the erasure of Native American narratives from US history against the background of the Grand Portage National Monument on the US-Canadian border, Carlos Casas's Krakatoa, exploring the looming modern-day ecological crisis through the prism of the 1883 volcanic eruption and Mexico-set hybrid Ollin Blood.
Echoes of the pandemic
A total of 400 projects from 120 countries were submitted, representing an increase of 23% on 2019. The project call period ran from December to mid-March, so Moris does not believe the rise was related to the Covid-19 pandemic.
"I think it's just a sign of the lab's growing reputation and that we're more and more on people's radar," she suggested.
Some of the projects appear to have been tweaked since their submission, however, to take into account the events of the last few months. US artist Lockhart's documentary project Baumettes, for example, was inspired by a conversation between the US artist and a female inmate at the Baumettes Prison in Marseille about the role of cinema in captivity, that took place long before the Covid-19 pandemic. The pandemic and resulting lockdown now means prisons are out-of-bounds for visitors. This led Lockhart and her collaborators to re-think the project to incorporate a mediation experience that will be shared with inmates at the Baumettes, who will in turn record their experiences for use in the film.
The project is being produced Jacqui Davies at London-based Primitive Film, whose recent credits include Richard Billingham's Ray & Liz.
Additionally, French and German artistic duo Elise Florenty and Marcel Türkowsky have shifted the backdrop of their docu-drama Ollin Blood to Mexico City at the height of the lockdown. The project follows a group of friends who find themselves connected in their isolation to a mysterious cactus forest that is endangered and dangerous at the same time. The work follows their 2017 documentary Conversation With A Cactus, exploring the consciousness of plants and asking whether a cactus could have given evidence in an investigation into the mysterious death of a journalist probing Japan's Fukushima nuclear disaster.
Following the unveiling of the presentations online on Monday, participants will hold four days of one-on-one meetings with potential partners.
The teams will also present their projects to this year's jury comprising Fiorella Moretti, co-founding chief of Paris-based sales company Luxbox, Directors' Fortnight delegate general Paolo Moretti and Matthijs Wouter Knol, the outgoing chief of the Berlinale's European Film Market (EFM).
They will mete out nine awards: Six of the prizes – provided by Commune Image, Kodak-Silverway, Mactari, Micro Climat Studios, Sublimages, Vidéo de Poche offer production and post-production services. Two are for residencies, provided by the Fondation Camargo in Cassis and new partner Casa de Veláquez in Madrid. The final award is in the shape of long-haul tickets from Air France.
Beyond the 15 projects in selection, FIDLab will also put the spotlight on three Greek producers for this second edition of its Focus-Europe slot, which kicked off with Bulgaria last year. They are Maria Drandaki at Homemade Films, whose credits including Mahdi Fleifel's A Drowning Man; Amanda Livanou at Neda Film, who is working on Christos Massalas's debut feature Broadway, and Konstantinos Vassilaros at StudioBauhaus.
"We wanted to put the spotlight on young, emerging producers who are continuing to push on with their work in spite of the crisis that their country has undergone in recent years and the complex reality they find themselves in," said Moris.
The FIDLab 2020 selection
Ningdu (China-US)
Dir: Lei Lei
A Portrait (Chile-Can)
Dir: Sofia Bohdanowicz
Baumettes (US-UK)
Dir: Sharon Lockhart
The Jungle (Switz)
Dir: Matthias Huser
Grand Portage (US)
Dir: Julia Pello
Krakatoa (Sp)
Dir: Carlos Casas
Infamous Men's Life (Fr)
Dirs: Gilles Deroo, Marianne Pistone
The Sea Urchins (Sp)
Dir: Juan Rodrigáñez
Ollin Blood (Fr-Ger)
Dirs: Elise Florenty, Marcel Türkowsky
Patiko Simpatico (Georgia)
Dir: Tina Makharadze
Senda India (Arg)
Dir: Daniela Seggiaro
The Goddamn Particle (Isr-Fr)
Dir: Mili Pecherer
Invisible Tunnel (Braz)
Dirs: Lucas Camargo de Barros, Nicolas Thomé Zetune (Brazil)
Tracking Satyrs (Poland)
Dirs: MML collective: Gilles Lepore, Michal Madracki, Maciej Madracki
Xiao Li ((Switzerland, Portugal)
Dirs: Maya Kosa, Sérgio da Costa