World premieres include Barrage, starring Isabelle Huppert and her daughter Lolita Chammah.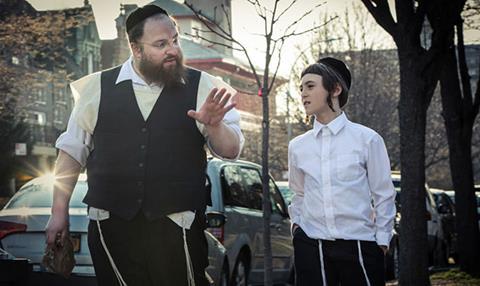 Scroll down for full list
This year's Forum programme at the Berlin Film Festival (Feb 9-19), which highlights avant garde and experimental works, will feature 47 films, including 29 world premieres.
These include the premiere of Laura Schroeder's Barrage, which stars Isabelle Huppert alongside her daughter Lolita Chammah in the story of a young woman who returns to Luxembourg after a 10-year absence to spend time with her estranged child. Huppert plays the grandmother, who has fostered the young girl during that absence.
Having its international premiere at Forum this year will be Golden Exits, the new feature from American filmmaker Alex Ross Perry. His previous credits include Queen Of Earth, which premiered at Berlin in 2015. His latest tells the story of a young Australian woman who comes to New York for a few months and unwittingly throws the lives of two couples into disarray.
Additional North American films playing in Forum this year include Joshua Z. Weinstein's Menashe, which is set to premiere at Sundance Film Festival. The film, which is almost entirely in Yiddish, follows a man who attempts to keep custody of his son following the death of his wife.
Films playing in Forum 2017:
2+2=22 [The Alphabet] dir. Heinz Emigholz, Germany – WP
Adiós entusiasmo (So Long Enthusiasm) dir. Vladimir Durán, Argentina / Colombia – WP
At Elske Pia (Loving Pia) dir. Daniel Joseph Borgmann, Denmark – WP
Aus einem Jahr der Nichtereignisse(From a Year of Non-Events) dir. Ann Carolin Renninger, René Frölke, Germany – WP
Autumn, Autumn dir. Jang Woo-jin, Republic of Korea – IP
Barrage dir. Laura Schroeder, Luxembourg / Belgium / France – WP
Bickels [Socialism] dir. Heinz Emigholz, Germany / Israel – WP
Casa Roshell dir. Camila José Donoso, Mexico / Chile – WP
Casting dir. Nicolas Wackerbarth, Germany – WP
Chemi bednieri ojakhi (My Happy Family) dir. Nana & Simon, Germany / Georgia/France
Cuatreros(Rustlers) dir. Albertina Carri, Argentina – IP
Dayveon dir. Amman Abbasi, USA – IP
Dieste [Uruguay] dir. Heinz Emigholz, Germany – WP
Drôles d'oiseaux(Strange Birds) dir. Elise Girard, France – IP
For Ahkeem dir. Jeremy Levine, Landon Van Soest, USA – WP
Golden Exits dir. Alex Ross Perry, USA – IP
Jassad gharib (Foreign Body) dir. Raja Amari, Tunisia / France
Loktak Lairembee (Lady of the Lake) dir. Haobam Paban Kumar, India
Maman Colonelle (Mama Colonel) dir. Dieudo Hamadi, Democratic Republic of Congo / France – WP
El mar la mar dir. J.P. Sniadecki, Joshua Bonnetta, USA – WP
El mar nos mira de lejos(The Sea Stares at Us from Afar) dir. Manuel Muñoz Rivas, Spain / The Netherlands – WP
Menashe dir. Joshua Z Weinstein, USA / Israel – IP
Mittsu no hikari (Three Lights) dir. Kohki Yoshida, Japan – WP
Mon rot fai (Railway Sleepers) dir. Sompot Chidgasornpongse, Thailand
Motherland (Bayang Ina Mo) dir. Ramona S. Diaz, USA / The Philippines – IP
Motza el hayam (Low Tide) dir. Daniel Mann, Israel / France – WP
Mzis qalaqi (City of the Sun) dir. Rati Oneli, Georgia / USA / The Netherlands / Qatar / USA – WP
Newton dir. Amit V Masurkar, India – WP
Occidental dir. Neïl Beloufa, France – IP
Qiu(Inmates) dir. Ma Li, People's Republic of China – WP
Rifle dir. Davi Pretto, Brazil / Germany – IP
Río Verde. El tiempo de los Yakurunas(Green River. The Time of the Yakurunas)dir. Alvaro Sarmiento, Diego Sarmiento, Peru – WP
Shu'our akbar min el hob(A Feeling Greater than Love) dir. Mary Jirmanus Saba, Lebanon – WP
somniloquies dir. Verena Paravel, Lucien Castaing-Taylor, France / USA – WP
Spell Reel dir. Filipa César, Germany / Portugal / France / Guinea-Bissau – WP
Streetscapes [Dialogue] dir. Heinz Emigholz, Germany – WP
Tamaroz(Simulation) dir. Abed Abest, Iran – WP
El teatro de la desaparición(The Theatre of Disappearance) dir. Adrián Villar Rojas, Argentina – WP
Tiere(Animals) dir. Greg Zglinski, Switzerland / Austria / Poland – WP
Tigmi n Igren (House in the Fields) dir. Tala Hadid, Morocco / Qatar – WP
Tinselwood dir. Marie Voignier, France – WP
Werewolf dir. Ashley McKenzie, Canada – IP
Yozora ha itsu demo saikou mitsudo no aoiro da (The Tokyo Night Sky Is Always the Densest Shade of Blue) dir. Yuya Ishii, Japan – WP