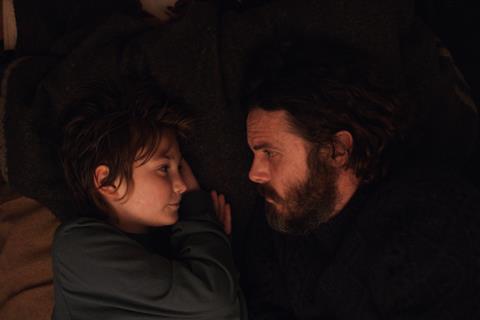 The final titles for the 2019 Berlin Film Festival (Feb 7-17) Panorama programme have been revealed.
Among the new additions is Light Of My Life, directed by and starring Casey Affleck and co-starring Elisabeth Moss.
Titles revealed back in December include Joanna Hogg's The Souvenir, Seamus Murphy's PJ Harvey documentary A Dog Called Money and Rob Garver's documentary What She Said: The Art of Pauline Kael.
The final Panorama selection includes 45 films from 38 countries, including 34 world premieres. There are 29 features, 16 documentaries and 19 directorial debuts.
The full list of newly added titles is below:
All my Loving by Edward Berger with Lars Eidinger, Nele Mueller-Stöfen, Hans Löw. Germany – World premiere
La Arrancada (On the Starting Line) by Aldemar Matias. France/Cuba/Brazil – Debut film, Panorama Dokumente, World premiere
Der Atem (The Breath) by Uli M Schueppel. Germany - World premiere
Breve historia del planeta verde (Brief Story from the Green Planet) by Santiago Loza with Romina Escobar, Paula Grinszpan, Luis Soda. Argentina / Germany / Brazil / Spain – World premiere
Buoyancy by Rodd Rathjen with Sarm Heng, Thanawut Kasro, Mony Ros. Australia – Debut film, World premiere
Divino Amor (Divine Love) by Gabriel Mascaro with Dira Paes, Julio Machado. Brazil / Uruguay / Chile / Denmark / Norway / Sweden – European premiere
A Dog Barking At The Moon by Xiang Zi with Nan Ji, Naren Hua, Zhang Xinyue. People's Republic of China/Spain – Debut film, World premiere
Flesh Out by Michela Occhipinti with Verida Beitta Ahmed Deiche, Amal Saad Bouh Oumar, Aichetou Abdallahi Najim, Sidi Mohamed Chighaly. Italy – Debut film, World premiere
Lemebel by Joanna Reposi. Chile/Colombia – Documentary, World premiere
Light of My Life by Casey Affleck with Anna Pniowsky, Casey Affleck, Elisabeth Moss. USA – Debut film, World premiere
Midnight Traveler by Hassan Fazili und Emelie Mahdavian. USA/UK/Qatar/Canada – Debut film, Documentary, International Premiere
Normal by Adele Tulli. Italy / Sweden – Debut film, Panorama Dokumente, World premiere
Šavovi (Stitches) by Miroslav Terzić with Snezana Bogdanovic, Marko Bacovic, Jovana Stojiljkovic. Serbia/Slowenia/Kroatia/Bosnia and Hercegovina - World premiere
Schönheit & Vergänglichkeit by Annekatrin Hendel. Germany – Documentary, World premiere
Searching Eva by Pia Hellenthal. Germany – Debut film, Documentary, World premiere
Serendipity by Prune Nourry. USA – Debut film – Documentary, World premiere
The Shadow Play by Lou Ye with Jing Boran, Song Jia, Qin Hao, Ma Sichun. People's Republic of China – European premiere
Staff Only by Neus Ballús with Sergi López, Elena Andrada, Ian Samsó, Diomaye A. Ngom, Madeleine C. Ndong. Spain/France - World premiere
Système K (System K) by Renaud Barret. France – Documentary, World premiere
Talking about Trees by Suhaib Gasmelbari. France/Sudan/Germany/Chad/Qatar – Debut film, Documentary, World premiere
Western Arabs by Omar Shargawi. Denmark/Netherlands – Documentary, World premiere
Woo Sang (Idol) by Lee Su-jin with Han Seok-kyu, Seol Kyung-gu, Chun Woo-hee. South Korea – World premiere