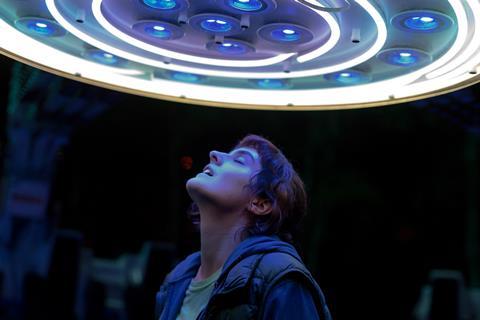 The Berlin International Film Festival (Feb 20-Mar 1) has revealed the final raft of titles that will comprise its Generation strand and confirmed that 58% of the features and shorts in the youth section are directed by women.
Scroll down for full list of titles
It follows a recent announcement that more than 50% of the films in the official project selection of the Berlinale Co-Production Market are from female directors.
The 43rd edition of Berlin's Generation sidebar will comprise 59 competition entries from 34 countries, including 29 world premieres.
After revealing 20 films in the strand last month, the newly announced titles include several that will be fresh from their debut at Sundance.
These include documentary The Earth Is Blue As An Orange, in which a Ukrainian family use filmmaking as a distraction from war; Massoud Bakhshi's Yalda, A Night For Forgiveness, in the fate of a young Iranian woman sentenced to death is put to the vote on a TV show; and Zoé Wittock's Jumbo, centred on a shy young woman who becomes romantically infatuated with an amusement park ride.
Generation's 14plus competition section will open with coming-of-age drama Cocoon, starring Lena Urzendowsky and Jella Haase as two young women exploring adulthood. Haase is best known for her role in the hit Fack ju Göhte franchise.
Generation Kplus
Schoolgirls (Spa) WP
dir. Pilar Palomero
Mum, Mum, Mum (Arg) WP
dir. Sol Berruezo Pichon-Riviére
Monty And The Street Party (Den) IP
dirs. Anders Morgenthaler, Mikael Wulff
Blue Eyes And Colorful My Dress (Ger) WP
dir. Polina Gumiela
Chronicle Of Space (Ind) WP
dir. Akshay Indikar
Sune – Best Man (Swe) IP
dir. Jon Holmberg
Generation 14plus
Alice Júnior (Bra) IP
dir. Gil Baroni
The Earth Is Blue As An Orange (Ukr-Lith)
dir. Iryna Tsilyk
Sisters In The End Of The World (Bra) WP
dirs. Luciana Mazeto, Vinícius Lopes
Jumbo (Fra-Bel-Lux)
dir. Zoé Wittock
Voices In The Wind (Jap) IP
dir. Nobuhiro Suwa
Goddess Of The Fireflies (Can) WP
dir. Anaïs Barbeau-Lavalette
Ordinary Justice (Ita-Swi) WP
dir. Chiara Bellosi
Yalda, A Night For Forgiveness (Fra-Ger-Swi-Lux-Leb-Iran)
Dir. Massoud Bakhshi