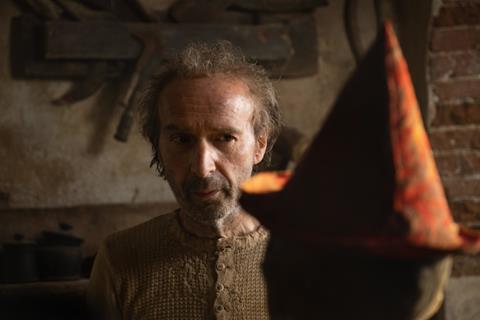 The Berlinale has revealed the first films set to be screened at the 70th edition of the festival.
They include the live-action adaptation of Pinocchio, from Italian director Matteo Garrone, which is the first Berlinale Special Gala to be announced – a category that replaces 'out of competition'. It will mark the international premiere of the film, starring Roberto Benigni, which is released in Italy this weekend.
Scroll down for full list of titles
The first 18 films selected for the Panorama strand have also been named, including 11 world premieres.
Among these are Harvey Weinstein-inspired drama The Assistant from US director Kitty Green. The film debuted at Telluride and stars Julia Garner as a junior assistant to a powerful entertainment mogul who is confronted with daily abuse.
The line-up also includes documentary Welcome To Chechnya by David France, which highlights the brutal and systematic persecution of the LGBTQI community in the Russian republic. France was previously Oscar-nominated for his Sundance documentary How To Survive A Plague in 2013.
The first 20 films in the Generation strand have also been announced. A total of 13 different production countries span the selection, with Germany and France particularly represented. Nine of those named will receive their world premiere.
Filmmakers include 2017 Screen Star of Tomorrow Rubika Shah, who will bring her first feature-length documentary White Riot, centred on the Rock Against Racism movement of the 1970s. The doc first screened at the London Film Festival.
In addition, the first four films set to play in the Perspektive Deutsches Kino strand, which comprises graduation and debut films. The programme will open with amateur boxer drama Kids Run by Germany's Barbara Ott, who gained recognition with her graduation short Sunny in 2013.
All selected films are in competition for the Compass-Perspektive-Award and for the first time this year the Heiner Carow Prize, honouring a film that addresses social and political issues. Both awards include a cash prize of €5,000.
Earlier this month, it was announced that UK actress Helen Mirren will receive the honorary Golden Bear for lifetime achievement at the festival.
The competition titles for the festival will be announced on January 29 ahead of the 70th Berlinale, which will run February 20 to March 1 – later in the year than usual to accommodate the Academy Awards, which shifted to an earlier date.
Panorama
IP = International Premiere / WP = World Premiere
The Assistant, dir. Kitty Green (US) IP
Notes from the Underworld, Tizza Covi, Rainer Frimmel (Aust) Documentary WP
Bloody Nose, Empty Pockets, Bill Ross, Turner Ross (US) IP
Shine Your Eyes, Matias Mariani (Bra-Fr) WP
Digger, Georgis Grigorakis (Gre-Fr) WP
Eeb Allay Ooo!, Prateek Vats (Ind)
Exile, Visar Morina (Ger-Bel-Kos)
No Hard Feelings, Faraz Shariat (Ger) WP
Hope, Maria Sødahl (Nor-Swe)
Running on Empty, Lisa Weber (Aust). Documentary WP
Wildland, Jeanette Nordahl (Den) WP
Las Mil y Una, Clarisa Navas (Arg-Ger) WP
Pari, Siamak Etemadi (Gre-Fr-Neth-Bul) WP
Little Girl, Sébastien Lifshitz (Fr). Documentay WP
Black Milk, Uisenma Borchu (Ger-Mong) WP
If It Were Love, Patric Chiha (Fr) WP
Suk Suk, Ray Yeung (HK-Chi)
Welcome to Chechnya, David France (US) IP
Generation 14plus
Kokon, Leonie Krippendorff (Ger)
My Name is Baghdad, Caru Alves de Souza (Bra)
Our Lady of the Nile, Atiq Rahimi (Fr)
Paradise Drifters, Mees Peijnenburg (Neth)
Pompei, Anna Falguères, John Shank (Bel-Fr-Can)
White Riot, Rubika Shah (UK)
Generation Kplus
Death Of Nintendo, dir. Raya Martin (Phil-US)
H Is For Happiness, John Sheedy (Aus)
Los Lobos, Samuel Kishi Leopo (Mex)
Cuties, Maïmouna Doucouré (Fr)
Perro, Lin Sternal (Ger)
Sweet Thing, Alexandre Rockwell (US)
Veins Of The World, Byambasuren Davaa (Ger-Mong)
Perspektive Deutsches Kino
A Fish Swimming Upside Down, dir. Eliza Petkova (Ger)
Garage People, Natalija Yefimkina (Ger)
Kids Run, Barbara Ott (Ger) opening film
Walchensee Forever, Janna Ji Wonders (Ger)