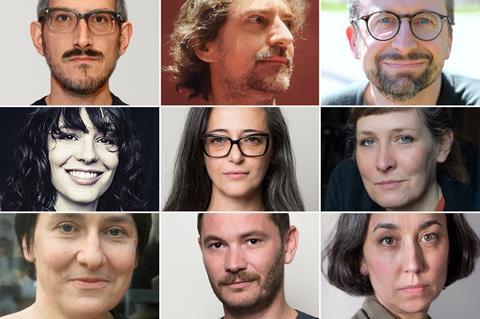 The Berlin International Film Festival has announced a new seven-member gender-balanced selection committee, appointed by incoming artistic director Carlo Chatrian.
Chatrian, who officially takes up his role alongside new executive director Mariette Rissenbeek on June 1, 2019, has brought four colleagues with him from the Locarno Film Festival, where he served as artistic director from 2012 to 2018.
They include new Berlinale head of programming Mark Peranson, who was head of programming at Locarno from 2013 to 2018, and a member of the selection committee from 2010 to 2012. A native of Toronto, Canada, Peranson was a programming associate for the Vancouver International Film Festival from 2001 to 2018, and is founder, editor and publisher of Cinema Scope magazine.
Also joining the Berlin selection committee from Locarno are Italians Lorenzo Esposito and Sergio Fant, plus Aurélie Godet from France. All three were on the Locarno committee from 2013 until last year.
Paz Lázaro moves to the selection committee from her previous role as director and curator of the Panorama section in Berlin, which she held for the previous two festivals. She has also been a member of the Competition selection committee since 2007, and is part of the Berlinale Series selection committee.
Rounding out the new committee are Verena von Stackelberg, who is the film programmer at Soho House in Berlin and is founder and managing director of Berlin cinema Wolf Kino; and Barbara Wurm, an author and curator who has worked on the selection committees of DOK Leipzig and the International Short Film Festival Oberhausen.
The new committee has four women and three men (four including Chatrian).
Chatrian has also appointed two new section heads. Michael Stütz becomes head of Panorama, where he was previously curator and programme manager for the past two years and has worked since 2006.
Anna Henckel-Donnersmarck becomes head of Berlinale Shorts, replacing Maike Mia Höhne, who was appointed artistic director of the Hamburg International Short Film Festival last year. Henckel-Donnersmarck has been a programmer, moderator and juror at festivals including Pictoplasma, Stuttgarter Filmwinter and Kasseler Dokfest for the past 20 years.
The festival intends for the new committee to work together beyond the 2020 event. "The appointments are intended to create a committee that works closely together with a long-term commitment," Chatrian told Screen.
Chatrian and Rissenbeek also outlined their responsibilities in their new roles. Rissenbeek will focus on "financing and organisational as well as communication structures on the one hand and developing new strategies and the respective concepts on the other." This includes supporting industry activities European Film Market, Berlinale Co-Production Market, Berlinale Talents and World Cinema Fund.
Chatrian said he is "responsible for the festival's artistic profile. In looking after the programming work, supported by the selection committee, I wish to carve out the artistic shape of the entire festival programme."