"Trump will only make American society poorer," Insyriated actress Hiam Abbass told Screen.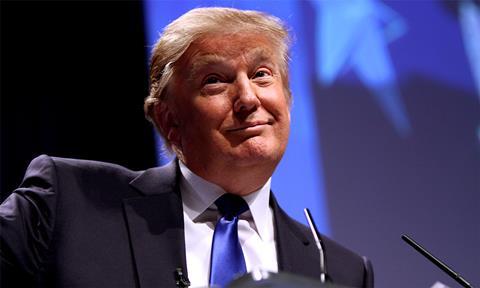 Industry executives at Berlin Film Festival are still on high alert should US president Donald Trump get his way and impose a new travel ban.
Even though a federal appeals court has upheld a block on the US president's original embargo on citizens from seven Muslim-majority countries, Trump has intimated a revised executive order could be in the offing.
The recent ban, although only in place for days, had a meaningful impact on the film world.
Asghar Farhadi, Iranian director of Oscar nominee The Salesman has already said he will boycott the awards.
According to Screen sources, Iranian-Italian filmmaker Fariborz Kamkari was recently unable to attend the Santa Barbara International Festival with documentary Water And Sugar: Carlo Di Palma, The Colours Of Life due to the previous ban.
Palestinian actress Hiam Abbass, who stars in Syrian-set Panorama war-drama Insyriated, was damning in her assessment of a potential ban:
"I have only one word, 'Stupid'. All over the world people are trying to open doors. Societies with a mixture of different people are enriched. Trump, on the other hand, will only make American society poorer."
Festivals response
US festival heads, who spoke to Screen while the ban was in effect, are watching closely.
"We are looking for innovative ways for any affected filmmaker to be represented and present in the theatres and at their premieres to continue our rich tradition," said Tribeca Film Festival director of programming Cara Cusumano.
"As the world is changing, globally diverse perspectives are more important than ever," she continued. "The travel ban would rob both audiences and filmmakers of this unique cultural exchange."
"Bringing international filmmakers is central to the mission of [our festival]," Seattle International Film Festival interim artistic director Beth Barrett said.
She confirmed that White House anti-immigration measures would have "a huge impact" on inviting filmmakers from countries affected by a ban.
Meanwhile, Lorenzo Fiuzzi of Filmatique, a new streaming service based in New York, was lining up a series of 'banned nation' films for March. "I'm not political but I found this to be inhumane," Fiuzzi said.