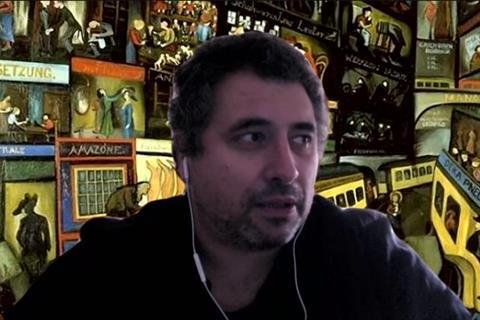 Radu Jude, the Golden Bear-winning Romanian director of Bad Luck Banging Or Loony Porn, has criticised the glamour of film festivals, decrying the "bullshit of red carpets."
"The essence of cinema is to be a serious art, a serious discipline – I would like it to be treated seriously," said Jude. "When you put people on the red carpet with fancy dresses and costumes like a glamourous event, I always want to shy away from that.
"My belief in cinema doesn't have anything to do with this kind of clowning around."
Jude unfavourably compared the film industry's love of excess with other industries. "If you go to a book fair, there are no people in fancy dresses. It's people who love books, authors who wrote the books, they meet their audience and that's it.
"You don't see all this bullshit of big red carpets, sponsored cars and all that. I understand there's a price the festival has to pay in order to do it; but this year there was not, and I'm quite happy for that."
His sentiments were echoed by the film's producer Ada Solomon. "When we speak more about the dresses than the films, we have a problem," she said.
Solomon also felt filmmakers from smaller territories were better positioned to deal with the new circumstances caused by the pandemic.
"We were more prepared for the challenge because we have always been in situations that are almost-crises. We always had to adapt and find unconventional solutions, because not having a proper system and not functioning in a constructive and settled way of making films, we always have to be very creative."
Jude praised the online event run by the Berlinale this year and welcomed the prospect of future digital editions. "It's very good that they did something; it's not ideal, but we are not living in an ideal world," he said. "Somebody said to me, 'We took out that stupid red carpet, maybe we should keep it like that.' And I agree."
Solidarity
Shot in the summer of 2020 and incorporating the use of face masks into the film, Bad Luck Banging is a social satire about a schoolteacher whose career and reputation are threatened by the leaking of a personal sex tape.
Jude, whose films have regularly engaged with socio-political discourse, condemned the political climate in his home country.
"Apart from having a facist party in parliament, the main problem is having a corrupt party, or other parties which are for austerity measures or neoliberal measures," he said. "There's no social solidarity at all; there's no solidarity between people, no social protection.
"There's no investment and care about education or what is important."
The film's sales agent Heretic Outreach confirmed deals for several territories earlier today, including Germany, Taiwan and Russia. Responding to a question about whether the film's sexual content could hinder a US deal, Solomon said depictions of sex should be reconsidered given the lax attitudes towards violence.
"It's happening more and more that violence is accepted, nudity is not," she said. "For me, violence affects me emotionally much more than nudity. I'm not saying we should censor this as well; we should consider [the sexual content], not through an algorithm. Things should be considered in their complexity – there is no complete black and complete white."
UK-based Sovereign Films was an associate producer on Bad Luck Banging last year. Solomon said the UK's subsequent departure from the European Union has not reduced the prospects of her collaborating with the country in future.
"Partners are partners – in the arthouse world it's not so much about financial constructions," she said. "It's about getting the resources to be able to create something, to reach as wide an audience as possible. I am not doing something first and foremost with the goal of profit."