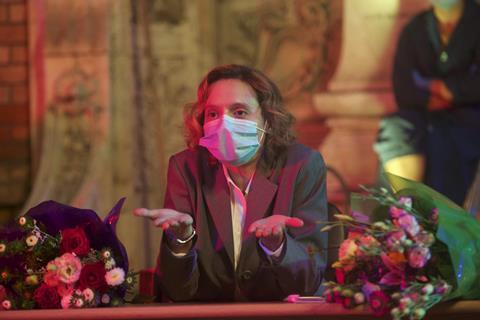 Romanian director Radu Jude's pandemic-set, social-political satire Bad Luck Banging Or Loony Porn has sealed a first round of deals following its world premiere in competition at the Berlinale.
The sales arm of Athens-based film company Heretic Outreach has signed sales to Germany (Neue Visionen), Taiwan (Swallow Wings), Poland (New Horizons), ex-Yugoslavia (MCF Megacom), Greece (Cinobo) and Russia (Capella Film).
Mixing irreverent humour and scathing commentary on hypocrisy and prejudice in modern society, the work stars Katia Pascariu as a school teacher who finds her career and reputation on the line after a personal sex tape is leaked onto the Internet. Forced to meet the parents demanding her dismissal, she refuses to surrender.
Shot in Romania over the summer of 2020 during a lull in the pandemic, it is one of the rare features of the last 12 months to incorporate the health crisis fully into the storyline, with the cast wearing masks on screen throughout.
It is Jude's second time in competition at the Berlinale after Aferim!, which won the Silver Bear in 2015, tying with Malgorzata Szumowska's Body. He was also at last year's edition with Uppercase Print which debuted in the Forum.
The film is lead produced by Jude's long-time producer Ada Solomon at Bucharest-based company microFILM, with co-producers Paul Thiltges at Luxembourg's Paul Thiltges Distributions, Anicka Juric Tilic at Croatia's Kinorama and Jiri Konecny at Czech company Endorfilm.
"It's been exciting to bring a film with such immediacy and relevance to the market during this complicated time. Films that provoke and stimulate real self-reflection are not so common and the movie reflects where we all are now in so many ways," commented Heretic Outreach head of sales Ioanna Stais.