As divisive rhetoric continues to swell across the Atlantic, it is appropriate that Mexico took centre stage at the 2017 Berlinale as the EFM's inaugural Country In Focus.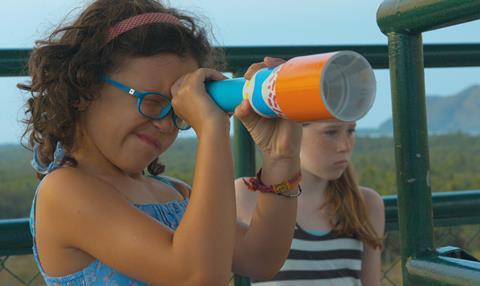 Berlin knows a thing or two about walls. As controversy strikes with US president Donald Trump's signing of an executive order to brick up the border between Mexico and the US, the Berlinale is busy building bridges. It could hardly be more symbolic.
Berlin's Wall once stood in front of the Martin-Gropius-Bau, main venue of the European Film Market (EFM), which this year welcoemd Mexico as the Country In Focus. On the other side stands the House of Representatives, hosting the Co-Production Market.
The Country In Focus initiative, launched this year to highlight the presence of one country amid the growing number of professionals, nationalities, companies and institutions at the EFM, "is not a concept that is completely new; it has been done before at other events", says EFM director Matthijs Wouter Knol.
"But it is something we value as it strengthens our relationship with the film industries of other countries. "The EFM's choice was a fairly easy one, given that Germany-Mexico Year, a partnership designed to strengthen bilateral co-operation between the two countries across fields ranging from culture to business, was launched in April 2016.
"Together with [Berlinale director] Dieter Kosslick, we suggested to IMCINE— the Mexican Film Institute — to have a focus on Mexico," says Knol. "There's a longstanding tradition of producers and filmmakers coming to the festival and the market, and the industry part of the Berlinale being active in Mexico, so it was a logical step to start with Mexico. And by setting it up, we realised it's something we would like to do every year from now on."
The Mexican industry's presence in Berlin has been strong for a long time, both in the market and the festival. In 2015, the best debut feature award went to Gabriel Ripstein's 600 Miles and the year before it was awarded to Alonso Ruizpalacios's Gueros. In 2011, the Silver Bear for outstanding artistic contribution went to Paula Markovitch's The Prize and, in 2008, the Alfred Bauer Prize was given to Fernando Eimbcke for his Competition title Lake Tahoe. At the Martin-Gropius-Bau this year, Mexico's centrally located stand will be well and truly in the spotlight.
Proud to be first
IMCINE director-general Jorge Sanchez attended the Berlinale for the first time in 1979, and has come to the festival since as a producer with films such as Cabeza De Vaca, which played in Competition in 1991, and later as director of Guadalajara Film Festival.
Sanchez is delighted to see a new step to strengthen the bonds between Berlin and Mexico. "The Berlinale is like a second home for Mexican cinema and we are very proud to be the first country in focus at the EFM," he says.
"Berlin has always recognised our diversity and talent, not only from Mexico but in Latin America in general," adds Cristina Velasco, director of film production support at IMCINE. "Being the focus of the most prestigious market in Europe enables producers and filmmakers in general to knock on the doors of the industry's key players.
"This business is all about making the right connection sand the EFM is allowing our producers to do so within a professional spotlight." IMCINE, in collaboration with the EFM, is bringing over a selection of promising Mexican producers. "We'll help them network," says Knol. "We'll make sure EFM delegates know their faces and names and can reach out to these producers to consider co-productions and developing projects with them."
Roll call
The list of key Mexican industry players who were present included both established and up-and-coming names.
Among them were Gaston Pavlovich, whose credits through his company Fabricade Cine include Martin Scorsese's Silence; producer Jaime Romandia from Mantarraya Films, the company behind Carlos Reygadas and Amat Escalante's pictures; and Monica Lozano from Alebrije Cinema & Video, an experienced producer who got her start on Alejandro Gonzalez Inarritu's Amores Perros. Producers who had films at the festival included Guatemala's Pamela Guinea, based in Mexico since 2013, who has Maria Novaro's Tesoros [pictured] in Generation Kplus, and Juan Pablo Bastarrachea, who has Casa Roshell playing in Forum.
Elsewhere, producer Inna Payan, founder of Animal de Luz, had a project in the Co-Production Market — Where The Summer Went by Beatriz Sanchis — while producer Martha Sosa had Rush Hour, from director Luciana Kaplan, at Meet The Docs. Producer and documentary director Carlos Hernandez (Anything Else Than Air) was also present, as was Venezuela-born documentary director Jorge Hernandez Aldana (Buffalo, The Heirs). Well established in Mexico, Hernandez Aldana brought Benigno Cruz to the Co-Production Market.
Documentary is a genre IMCINE has chosen to highlight through Mexico In Focus, in sync with the country's long tradition in the field. A broad spectrum will be available to sample at the festival and market screenings, while IMCINE will also host a lunch for the international documentary industry. Linked to this is the Gabriel Garcia Marquez Fund, an IMCINE initiative backed by the W.K. Kellogg Foundation to support projects from Mexico and Central America.
"The fund invites indigenous and Afro-descendant filmmakers from Mexico and Central America to present projects that not only promote reflection on the right to equality and non-discrimination, but also make visible the social obstacles that these imply," says Velasco.
In Drama Series Days (February 13-15)— a joint initiative for series content co-organised by the EFM, the Berlinale Co-Production Market and Berlinale Talents that was introduced last year — EFM and IMCINE hosted the talk 'New Frontiers: Creating Original Content in Mexico and Latin America' on February 13. "
One participant was Gerardo Naranjo, director of I'm Gonna Explode and Miss Bala, who has become active in the drama series field with Fear The Walking Dead and Narcos. The panel also discussed details of the new funding strategies.
"Starting this year, the Foprocine fund for the production of high-quality films will now offer funds to the production of drama, documentary and animation series. This effort is followed by a project development call we opened last December, where IMCINE will grant about $20,000 per project. It will be open to international co-productions and international directors," Velasco explains.
The extent of the co-operation between the Mexican film industry, EFM and the Berlinale is also relevant in other areas, such as the Berlinale Talents programme adopted by Guadalajara Film Festival. Guadalajara Talent Campus welcomes young people from all parts of Mexico, Central America and the Caribbean, in a project Sanchez triggered when he was director of Guadalajara Film Festival.
The most recent edition of Morelia Film Festival had a Berlinale Spotlight, showing films from the 2016 line-up, and Morelia's founding director Daniela Michel is back in Berlin as a member of the jury for the festival's new $53,700 Glashütte Original Documentary Award.
Hot Mexican films at the 2017 Berlinale
Mexican productions were present at the Berlinale across several sections: Maria Novaro's Tesoros in Generation Kplus, Jose Pablo Escamilla's Firefly (Libelula) in Generation 14plus, Camila Jose Donoso's Casa Roshell in Forum, Esteban Arrangoiz Julien's Reverie In The Meadow (Ensueno De Pradera) in Berlinale Shorts, Everardo Gonzalez's Devil's Freedom (La Libertad Del Diablo) in Berlinale Special and Felipe Cazals' Canoa (1976) in Berlinale Classics.
Several new projects taking shape in 2017 are at the EFM. They include Alfonso Cuaron's Roma, Carlos Reygadas' Where Life Is Born (Donde Nace La Vida) and Michel Franco's Las Hijas De Abril, starring Emma Suarez.
Golden Lion winner Lorenzo Vigas is coproducing Las Hijas De Abril with Franco, a partnership that will continue on Vigas' next film La Caja, to be shot this year, which Franco will co-produce.
Other hot Mexican titles include projects from Gaz Alazraki, whose feature debut The Noble Family broke Mexican box-office records in 2012. Alazraki's second film, Almost Paradise, is a story set in the 1950s and is scheduled for an autumn shoot. Fox International already has distribution rights for North and South America. Another period film is El Complot Mongol from Sebastian del Amo (Cantinflas), a Spain-Mexico coproduction starring Carlos Bardem.
Director Natalia Beristain's The Goodbyes is also one of the titles with high expectations at the EFM, especially after its success at Ventana Sur, where it won the European Vision Prize in the Primer Corte section for projects.