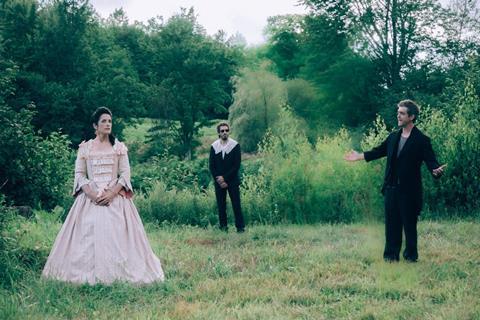 The Berlin International Film Festival has unveiled the features that will comprise its Encounters and Panorama strands, which will first be seen at the industry-focused, online-only event from March 1-5.
Panorama will include 19 titles, of which 16 are world premieres, while Encounters includes 12 features, all world premieres.
Like other strands that have been slimmed down for this year's first virtual edition, Panorama is nearly half of the 36 titles that were selected last year. However, the Encounters competition, now in its second year, is just three titles fewer than the 15 selected in 2020.
Scroll down for full list of titles
Panorama includes Theo And The Metamorphosis, the latest film from French director Damien Odoul, which centres on a young man with Down's syndrome who lives in seclusion in the forest with his father. Odoul's Deep Breath won a special jury award and Fipresci prize at Venice in 2001 while his drama After We're Gone played Cannes' Directors' Fortnight in 2004.
Also set to world premiere is US drama Ted K, directed by Tony Stone, in which District 9 star Sharlto Copley plays the infamous Unabomber, Ted Kaczynski.
British horror Censor will play Panorama following its recent premiere at Sundance and marks the feature directorial debut of Prano Bailey-Bond, who was named a Screen Star of Tomorrow in 2018.
A further Panorama title, Milica Tomović's Serbian drama Celts, has already had world rights snapped up by M-Appeal.
Returning to the festival is German director Anne Zohra Berrached, whose drama Two Mothers screened in the Perspektive Deutsches Kino sidebar in 2013 while her second feature, 24 Weeks, played in competition in 2016.
Notable features in the Encounters line-up include US-UK co-production The Beta Test, directed by and starting Jim Cummings and PJ McCabe. Cummings previously directed Thunder Road, winner of the grand jury award at SXSW 2018, while McCabe is an actor who makes his directorial debut with The Beta Test.
Also in Encounters is Social Hygiene from Canada's Denis Cote, who has previously played in Berlin's main competition three times with Vic + Flo Saw A Bear in 2013, Boris Without Beatrice in 2016, and Ghost Town Anthology in 2019.
Perspektive Deutsches Kino
The festival also announced the six titles that will comprise its Perspektive Deutsches Kino sidebar, for rising German filmmakers. The features, all world premieres, include Jesus Egon Christ by David Vajda and Sasa Vajda, Mia Maariel Meyer's The Seed, and Wood And Water from debut director Jonas Bak. A total of 225 films were submitted for the sidebar.
The festival is rolling out its selection this week and has already unveiled the titles in its Generation and Retrospective strands as well as its Forum selection. The Competition and Berlinale Special features will be revealed tomorrow (February 11).
As previously announced, this year's Berlinale will take place in two stages, beginning with the online European Film Market (EFM), from March 1-5, which will include a film selection made up of the festival's strands. While winners in the likes of the Encounters competition will be announced in March, the awards ceremony will take place at the physical, Summer Special event, set to run June 9-20.
Panorama 2021
Censor (UK)
Dir: Prano Bailey-Bond
Death Of A Virgin, And The Sin Of Not Living (Leb)
Dir: George Peter Barbari
World premiere
Bliss (Ger)
Dir: Henrika Kull
World premiere
Celts (Ser)
Dir: Milica Tomović
World premiere
Human Factors (Ger-It-Den)
Dir: Ronny Trocker
All Eyes Off Me (Isr)
Dir: Hadas Ben Aroya
World premiere
The World After Us (Fr)
Dir: Louda Ben Salah-Cazanas
World premiere
Night Raiders (Can-NZ)
Dir: Danis Goulet
World premiere
Brother's Keeper (Turkey-Rom)
Dir: Ferit Karahan
World premiere
Souad (Egy-Tun-Ger)
Dir: Ayten Amin
World premiere
Ted K (US)
Dir: Tony Stone
World premiere
Theo And The Metamorphosis (Fr)
Dir: Damien Odoul
World premiere
Copilot (Ger-Fr)
Dir: Anne Zohra Berrached
World premiere
A Balance (Jap)
Dir: Yujiro Harumoto
Panorama Dokumente 2021
(All world premieres)
Dirty Feathers (US-Mex)
Dir: Carlos Alfonso Corral
Genderation (Ger)
Dir: Monika Treut
Miguel's War (Leb-Ger-Sp)
Dir: Eliane Raheb
North By Current (US)
Dir: Angelo Madsen Minax
The Last Forest (Bra)
Dir: Luiz Bolognesi
Encounters 2021
(All world premieres)
As I Want (Egy-Fr-Nor-Pal-Ger)
Dir: Samaher Alqadi
Azor (Switz-Fr-Arg)
Dir: Andreas Fontana
The Beta Test (US-UK)
Dirs: Jim Cummings, PJ McCabe
Bloodsuckers (Ger)
Dir: Julian Radlmaier
Social Hygiene (Can)
Dir: Denis Côté
The Girl and the Spider (Switz)
Dir: Ramon Zürcher, Silvan Zürcher
District Terminal (Iran-Ger)
Dirs: Bardia Yadegari, Ehsan Mirhosseini
Moon, 66 Questions (Greece-Fr)
Dir: Jacqueline Lentzou
We (Fr)
Dir: Alice Diop
Rock Bottom Riser (US)
Dir: Fern Silva
The Scary of Sixty-First (US)
Dir: Dasha Nekrasova
Taste (Viet-Sing-Fr-Thai-Ger-Tai)
Dir: Lê Bảo
Perspektive Deutsches Kino 2021
(All world premieres)
Instructions For Survival (Ger)
Dir: Yana Ugrekhelidze
Jesus Egon Christ (Ger)
Dirs: David Vajda, Saša Vajda
Keep Moving (Ger)
Dir: Salar Ghazi
The Seed (Ger)
Dir: Mia Maariel Meyer
When A Farm Goes Aflame (Ger)
Dir: Jide Tom Akinleminu
Wood And Water (Ger-Fr)
Dir: Jonas Bak