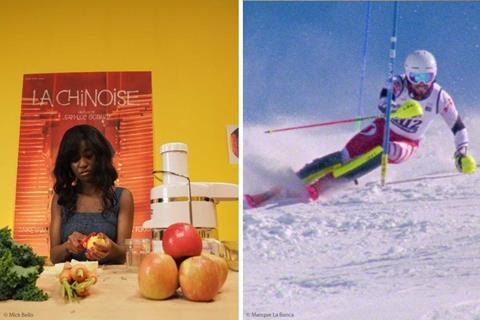 The Berlin International Film Festival has revealed the 17 features selected for this year's Forum line-up, which will first be seen at the industry-focused, online-only event from March 1-5.
The strand aims to highlight challenging and thought-provoking filmmaking that brings together film with visual art, theatre and literature.
The 17-title selection, which includes 14 world premieres, is just half of last year's line-up of 35 titles, as the festival slims down for its first virtual edition.
Physical screenings of the selection are planned to take place during the Berlinale's first Summer Special event, scheduled to run June 9-20.
Scroll down for full list
Established filmmakers in the selection include Israeli documentarian Avi Mograbi who explores the meaning of occupation in The First 54 Years – An Abbreviated Manual for Military Occupation. Mograbi was previously at the Berlinale in 2002 with August: A Moment Before the Eruption, which won the Peace Film Award.
Thai director Anocha Suwichakornpong returns with coming-of-age feature Come Here. Her previous films include Mundane History, which won the Tiger Award at International Film Festival Rotterdam in 2010.
Debut features include Ski by Argentina's Manque La Banca and The Inheritance by US artist/filmmaker Ephraim Asili. The latter, which was first selected for Toronto 2020, weaves together the histories of the MOVE Organization, the Black Arts Movement and Asili's involvement in a black Marxist collective.
The festival revealed the titles in its Generation and Retrospective strands yesterday and will announce the Encounters, Panorama and Perspektive Deutsches Kino titles tomorrow (February 10), before unveiling the Competition and Berlinale Special line-ups on Thursday.
As previously announced, this year's Berlinale will take place in two stages, beginning with the European Film Market (EFM), from March 1-5, which will include a film selection made up of the festival's strands. EFM will also host physical screenings for distributors in Tokyo, Melbourne, Sao Paulo and Mexico City. The awards ceremony, usually held at the end of the festival, will take place at the physical, Summer Special event in June.
Forum 2021
From Where They Stood (Fr-Ger)
Dir: Christophe Cognet
World premiere
Anamnesis (Ger)
Dirs: Chris Wright, Stefan Kolbe
World premiere
Tzarevna Scaling (Rus)
Dir: Uldus Bakhtiozina
International premiere
Ski (Arg-Bra)
Dir: Manque La Banca
World premiere
The First 54 Years – An Abbreviated Manual for Military Occupation (Fr-Fin-Isr-Ger)
Dir: Avi Mograbi
World premiere
Night Nursery (Burk-Fr-Ger)
Dir: Moumouni Sanou
World premiere
The Inheritance (US)
Dir: Ephraim Asili
Come Here (Thai)
Dir: Anocha Suwichakornpong
World premiere
Just A Movement (Bel-Fr)
Dir: Vincent Meessen
World premiere
Ancient Soul (Sp)
Dir: Alvaro Gurrea
World premiere
Jack's Ride (Port)
Dir: Susana Nobre
World premiere
What Will Summer Bring (Arg)
Dir: Ignacio Ceroi
World premiere
A River Runs, Turns, Erases, Replaces (US)
Dir: Shengze Zhu
World premiere
The Good Woman of Sichuan (Can)
Dir: Sabrina Zhao
World premiere
Ste. Anne (Can)
Dir: Rhayne Vermette
World premiere
Taming the Garden (Switz-Ger-Geo)
Dir: Salomé Jashi
The Luminous View (It-Sp)
Dir: Fabrizio Ferraro
World premiere