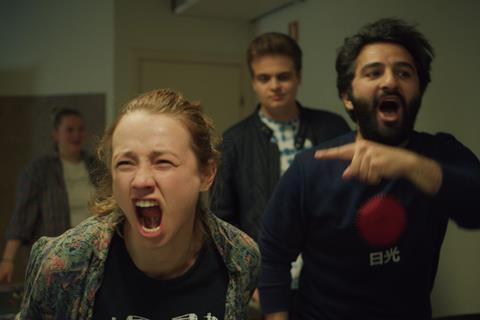 The Berlin International Film Festival has unveiled the first films selected for its 2021 edition which will take place in two parts, starting with the industry-focused, online-only event from March 1-5.
They are the titles that will comprise the Generation and Retrospective strands, and come nearly two months later than last year's equivalent announcement as organisers prepare to host the first virtual edition of the festival.
A second event, titled Summer Special, is scheduled to run June 9-20 and set to include physical screenings of the selection and their filmmakers, at 10 venues in Berlin. An opening event and awards ceremony is also being planned.
Generation will include 15 titles, of which seven are world premieres, divided across the Kplus and 14plus competitions. This is a significant but expected reduction on last year's 59 competition entries.
Scroll down for full list
World premieres include Mission Ulja Funk, the debut of German filmmaker Barbara Kronenberg; documentary Last Days At Sea, the first feature of Filipino director Venice Atienza; Ukranian teenage drama Stop-Zemlia, by Kateryna Gornostai; and The White Fortress, a Canada-Bosnia and Herzegovina co-production directed by Igor Drljača, whose drama Krivina played at Toronto 2012 while his follow-up, The Waiting Room, was selected for Locarno 2015.
Further features set to receive their world premiere includes Argentinian production A School In Cerro Hueso, directed by Betania Cappato; eco-documentary From The Wild Sea, from debut Danish filmmaker Robin Petré; Swiss feature The Fam, directed by Fred Baillif.
Ninjababy, from Norway's Yngvild Sve Flikke, her second feature after 2015's Women In Oversized Men's Shirts, will receive its international premiere
However, despite being labelled world premieres, the festival highlighted that they will retain this status until they will be presented publicly in cinemas or at festivals – "since they will be available in online screenings to a professional audience (industry and press) only".
Productions from Asia and Scandinavia are well represented, with four contributions each, and 60% of Generation films are directed by women – with 75% of female filmmakers making up the Kplus selection.
The Retrospective stand will include 27 comedies featuring three US actresses under the banner No Angels – Mae West, Rosalind Russell and Carole Lombard. All the films are US productions made between 1932 and 1943, the heyday of "screwball comedy", and will open will Mae West's debut film, Archie Mayo's Night After Night. Further titles include Howard Hawks' classic His Girl Friday and Alfred Hitchcock's Mr And Mrs Smith.
Further titles will be announced throughout the week with the Forum, Forum Expanded and Berlinale Shorts revealed tomorrow (February 9); the Encounters, Panorama and Perspektive Deutsches Kino unveiled on Wednesday; and the Competition and Berlinale Special titles named on Thursday.
As previously announced, this year's Berlin International Film Festival will take place in two stages, beginning with the European Film Market (EFM), from March 1-5. This will also include a film selection, made up of the festival's strands, which will be made available to watch by industry professionals and accredited press.
Last week, an international jury comprising six former Golden Bear winners was revealed, including Mohammad Rasoulof, Nadav Lapid, Adina Pintilie, Ildikó Enyedi, Gianfranco Rosi and Jasmila Žbanić. It was also announced that the EFM will host physical screenings for distributors in Tokyo, Melbourne, Sao Paulo and Mexico City.
Generation Kplus
Beans (Can)
Dir: Tracey Deer
Any Day Now (Fin)
Dir: Hamy Ramezan
International premiere
Summer Blur (China)
Dir: Han Shuai
Short Vacation (Kor)
Dirs: Kwon Min-pyo, Seo Hansol
International premiere
Last Days at Sea (Phil-Tai)
Dir: Venice Atienza
World premiere
Mission Ulja Funk (Ger-Lux-Pol)
Dir: Barbara Kronenberg
World premiere
Nelly Rapp – Monster Agent (Swe)
Dir: Amanda Adolfsson
International premiere
A School in Cerro Hueso (Arg)
Dir: Betania Cappato
World premiere
Generation 14plus
Cryptozoo (US)
Dir: Dash Shaw
International premiere
Fighter (S Kor)
Dir: Jéro Yun
International premiere
From the Wild Sea (Den)
Dir: Robin Petré
World premiere
The Fam (Switz)
Dir: Fred Baillif
World premiere
Ninjababy (Nor)
Dir: Yngvild Sve Flikke
International premiere
Stop-Zemlia (Ukr)
Dir: Kateryna Gornostai
World premiere
The White Fortress (Can-Bos & Her)
Dir: Igor Drljača
World premiere