Documentaries to benefit include The Possibilities Are Endless, about musician Edwyn Collins' battle to regain his memory.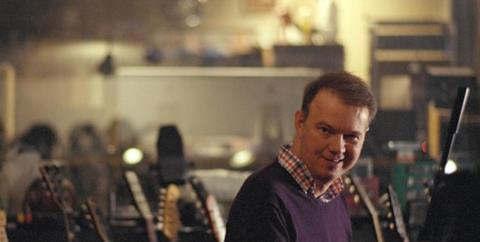 The Bertha BRITDOC Connect Fund grant, which help support the impact around documentary films, has selected its latest tranche of titles.
The eight films to benefit from grants ranging from £5,000 to £50,0000 were selected from more than 130 applications.
Titles include The Possibilities Are Endless, from directors Edward Lovelace and James Hall, about Edwyn Collins, a songwriter who suffered a stroke so severe that it effectively deleted the contents of his mind. The lyricist was only able to say two phrases: "The Possibilities are Endless" and "Grace Maxwell" (the name of his wife).
Ghosts in Our Machine
Dir. Liz Marshall
The film illuminates the lives of individual animals living within and rescued from the machine of our modern world. Through the heart and lens of photojournalist Jo-Anne McArthur, audiences become intimately familiar with a cast of non-human animals. Each story and photograph is a window into global animal industries: Food, Fashion, Entertainment and Research.
The Homestretch
Dirs. Kirsten Kelly & Anne de Mare
Three homeless teenagers brave Chicago winters, the pressures of high school, and life alone to build a brighter future. Against all odds, these kids defy stereotypes as they create new, surprising definitions of home. Can they recover from traumas of abandonment and homelessness and build the future they dream of?
The Yes Men Are Revolting
Dirs. Andy Bichlbaum & Mike Bonanno
For nearly two decades, Yes Men Mike and Andy have pulled off notorious media hoaxes that expose corporate crimes. Now middle-aged, they're taking on the biggest threat they've ever faced - climate change. Can they overcome insurmountable political forces before it's too late to save the planet?
The Chosen Ones
Dir. Arman Yeritsan
A group of solitarily elderly individuals, neglected by society, find unity in an amateur dance troupe and prove to the world through their performances that they still have dreams of love, hopes for the future, and can amaze audience with their spirits.
The Possibilities Are Endless
Dir. Edward Lovelace & James Hall
Imagine your mind has been wiped: memories, knowledge, experiences, language - every word you ever spoke, has vanished. If eventually you found the words, what would you say? For Edwyn Collins, 'The Possibilities Are Endless'.
Young Lakota
Dir. Marion Lipschutz & Rose Rosenblatt
When Cecelia Fire Thunder, the Oglala Sioux tribe's first female President, challenges a South Dakota law criminalizing abortion, she ignites a political firestorm that sets off a chain reaction in the lives of three young Lakotas on the Pine Ridge Reservation, forcing them to make choices that define who they are.
Unearthed
Dir. Jolynn Minnaar
A young South African woman swallows her optimism on fracking in her impoverished Karoo home district after a mysterious phone call from the US leads her to uncover the hidden truths of the shale gas industry.
Freedom Summer
Dir. Stanley Nelson
Freedom Summer tells the story of the summer of 1964 when more than 700 student volunteers joined with civil rights movement organizers and local blacks in a historic effort to shatter the foundations of white supremacy in Mississippi.
This year's second round of the Bertha Britdoc Connect Fund is now open and September 1 is the deadline for an application for a grant to support the impact and engagement work being conducted around a film.
Applications can come at the planning, trial, delivery or evaluation stage of a campaign. Films can apply more than once, for different parts or phases of a campaign.
The funds could support:
Funding a strategic summit with potential partners including media, NGOs Foundations and Campaigners, to identify target audiences and brainstorm how best to use the film to augment existing campaign strategies.


The development and production of school curriculum packs.


Support for design and build of innovative online tools to enhance audience engagement.


Funding for the re-versioning of the feature documentary into shorts, which could be used on multiple platforms including online and on mobile devices.


Funding for strategic screening tours: through schools, universities and relevant community groups, for political or corporate lobbying.


Support for an outreach staffer to action the outreach plan, book the screening tour and act as point person between the filmmakers and NGO partners.


Support for evaluation analysis, capturing data on the social impact of the film.