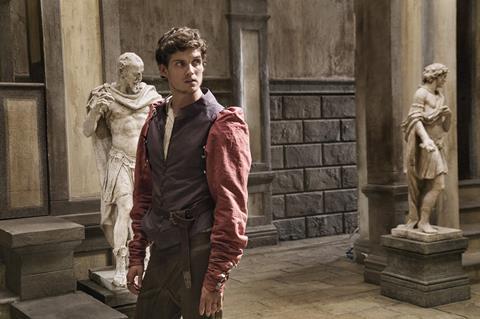 German sales company Beta Film has boarded The Magnificent, the second series in Frank Spotnitz's high-end Italian Renaissance drama Medici: Masters of Florence, ahead of MIPCOM.
Under the deal, Beta is partnering with Lux Vide, Rai Fiction and Spotnitz's Big Light Productions.
The new eight-hour series – starring Daniel Sharman (Teen Wolf, Fear the Walking Dead), Bradley James (Homeland, Merlin) and Sean Bean (Game of Thrones) – is currently shooting on location in Tuscany and in the studio in Rome.
The series begins in Florence in 1469, where an attempt on Piero de Medici's life forces his son Lorenzo to assume leadership of the family-run bank.
Sharman plays Lorenzo as he abandons the cynical politics of the past to usher in a new era of creative and political revolution, in a move that will bring him in direct conflict with another powerful Florentine clan, the Pazzi banking family.
"Lorenzo is a true Renaissance man and one of the greatest figures in history. When he takes leadership of the family, his idealism is put to the test, and culminates in the incredible but true story of the Pazzi conspiracy, a real-life thriller that's still shocking centuries later," said Spotnitz.
Beta Film will present first images of the series at MIPCOM in a special event attended by Sharman and Spotnitz, Lux Vide chief Luca Bernabei, Beta Film's Jan Mojto and Rai Fiction director Eleonora Andreatta.
"Young people with young ideas breaking up old structures – this is a most current subject, to which everybody can connect. We are delighted to partner with Frank Spotnitz and Lux' Matilde and Luca Bernabei on this exceptional show," said Beta Film chief Mojito.
The series is directed by Jon Cassar, director for eight seasons of 24 and executive producer and director of 24: Legacy and 24: Live Another Day, and Jan Michelini (Un passo dal cielo).
Other cast members include Sarah Parish, Alessandra Mastronardi Synnøve Karlsen, Raoul Bova and Julian Sands (Gotham). Shooting is expected to wrap in December.
The first series of Medici – handled internationally by Wild Bunch TV and revolving around the rise to power of Cosimo de Medici following the death of his father Giovanni – was a huge hit in Italy, sold to Netflix for US, UK, Ireland, Canada and India, and also aired across Europe and Asia.