Roald Dahl adaptation scores Steven Spielberg's third-biggest three-day opening weekend.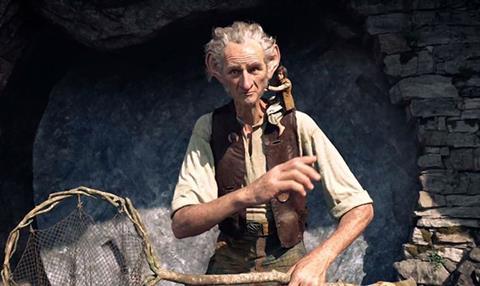 UK TOP FIVE
| Ranking | Film/Distributor | Weekend gross | Running total |
| --- | --- | --- | --- |
| 1 | The BFG (eOne) | $6.97m (£5.3m) | $6.97m (£5.3m) |
| 2 | Star Trek Beyond (Paramount) | $6.21m (£4.74m) | $6.21m (£4.74m) |
| 3 | André Rieu's 2016 Maastricht Concert (CinemaLive) | $1.84m (£1.4m) | $1.84m (£1.4m) |
| 4 | Ghostbusters (Sony) | $1.71m (£1.3m) | $9.46m (£7.2m) |
| 5 | The Secret Life Of Pets (Universal) | $1.59m (£1.21m) | $36.8m (£28m) |
(Note - Dollar conversions are based on today's rates)
EONE
Towering over the competition, The BFG fought off Star Trek Beyond to top the UK box office, despite the sunny weather.
eOne's Roald Dahl adaptation amassed a whizzpopping $6.97m (£5.3m) from its 680 sites, marking the third-best three-day weekend for Steven Spielberg behind only War Of The Worlds and Indiana Jones And The Kingdom Of The Crystal Skull.
Comparatively, it's a stronger opening for the film than in any other territory worldwide to date. The 680-site release is also on par with the scale of release of Star Wars: The Force Awakens during its first week.
Overall, it marks the best opening for Spielberg since The Adventures Of Tintin: The Secret Of The Unicorn which posted a $8.88m (£6.76m) debut in 2011, including $4.28m (£3.25m) in previews, and his fifth-biggest of all time in the UK.
In terms of recent Roald Dahl adaptations in the UK, The BFG opened below Charlie And The Chocolate Factory's $10.5m (£7.98m) from 531 sites, but that film benefitted from the powerhouse (at the time) combination of Tim Burton and Johnny Depp.
The BFG will soon overtake the final UK tally of Wes Anderson's stop-motion animation version of Fantastic Mr. Fox, which grossed $11.87m (£9.03m) back in 2009.
Also for eOne, Now You See Me 2 has now conjured up $7.5m (£5.71m) following a $423,000 (£321,438) third weekend.
PARAMOUNT
Battling both the weather and The BFG, Star Trek Beyond had to settle for second on its UK bow.
Paramount's latest mission for the USS Enterprise crew phased to a $6.21m (£4.74m) opening from its 535 sites. For director Justin Lin, that's only ahead of his first Fast & Furious film, Tokyo Drift.
Beyond's debut was also down on Star Trek's $7.82m (£5.95m) debut from 499 sites and Star Trek Into Darkness' $11.08m (£8.43m) bow from 554 sites, which did include $2.06m (£1.57m) in previews.
This coming weekend will give a clearer indication if audiences stayed away due to the good weather in the UK, given that sequels are usually front-loaded.
CINEMALIVE
For CinemaLive, André Rieu's consistently popular annual Maastricht concert enjoyed another record-breaking debut with $1.84m (£1.4m) over Saturday and Sunday.
SONY
Following its successful opening, Ghostbusters fell around 50% (excluding previews) with a $1.71m (£1.3m) second weekend.
Sony's much-talked about reboot has captured $9.46m (£7.2m) after 14 days in play, and led the UK market from Mon-Thurs. It will hope to surpass Spy's $13.14m (£10m) result to become Paul Feig's second-best UK result.
UNIVERSAL
The Secret Life Of Pets remained the UK's most popular animation with a $1.59m (£1.21m) fifth weekend.
Universal's latest Illumination Entertainment release now stands at a strong $36.8m (£28m) and could hit £30m by the end of this coming weekend. However, Finding Dory will provide the toughest competition of its run to date.
With schools off on summer holidays though, The Secret Life Of Pets should post healthy midweek numbers in its attempt to potentially reach £35m.
Also for Universal, Central Intelligence shot to a further $403,000 (£306,271) for $10.5m (£7.99m) after four weeks in play.
LIONSGATE
In its second and final weekend of performances, Secret Cinema's production of Lionsgate's Dirty Dancing took $1.25m (£953,520) for a final haul of $2.5m (£1.9m) from its six dates.
WARNER BROS
Falling almost 60%, Warner Bros' The Legend Of Tarzan swung to an $829,000 (£631,000) third weekend for a solid $10.64m (£8.1m) to date, but could miss out on the £10m mark.
Also for Warner Bros, The Conjuring 2 and Me Before You stand at $14.19m (£10.8m) and $12.48m (£9.5m), respectively.
FOX
Dropping more than 50% (excluding previews), Fox's Ice Age: Collision Course couldn't bounce back from its soft opening with $757,000 (£575,973) for $6.61m (£5.03m) to date.
With further competition arriving in Finding Dory this Friday [July 29], Collision Course will end as the lowest grosser of the series, currently Ice Age's $19.83m (£15.09m) result.
Also for Fox, Absolutely Fabulous: The Movie continued its excellent run with a $594,000 (£451,881) fourth weekend for a terrific $19.19m (£14.6m) to date.
Independence Day: Resurgence stands at $15.74m (£11.98m) after five weeks in play.
STUDIOCANAL
Released in 28 sites through Studiocanal, LFF 2015 Best Film winner Chevalier posted a UK bow of $24,000 (£18,167).
UPCOMING RELEASES
This week sees saturation releases for Disney's Finding Dory and Universal's Jason Bourne (opens July 27).
Curzon Artificial Eye's The Commune, Dogwoof's Author: The JT LeRoy Story and Studiocanal's Traders are among the films receiving a limited release.