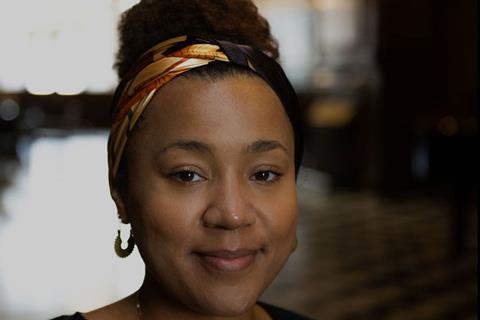 The British Film Institute (BFI) has hired Morgana Melvin as its first production inclusion manager to work across the BFI Film Fund, inclusion and skills teams and with partners including ScreenSkills, BBC Film and Film4.
She will identify the challenges and coordinate strategies to create more employment opportunities for underrepresented groups in production.
Melvin's role will see her work with the BFI's internal teams as well as BFI-backed producers, crews and the wider industry, and will also include support for prevention of bullying, harassment and racism on set.
Melvin rejoined the BFI in February to take up the newly-created post, which reports into the Film Fund team. She had previously worked at the BFI from 2016-2018 as inclusion coordinator, before working as an agent at Sara Putt Associates from September 2018 to February 2021. She also previously worked at Blueprint Pictures and HanWay FIlms.
Melvin's new role coincides with moves by the BFI and Bafta to update their resources to help the film and TV industries tackle bullying, harassment and racism in the workplace. The organisations have now launched a short, practical action list for employers to meet both legal and ethical responsibilities. A similar list was already in place for the games industry.
The action list include items such as using ScreenSkills training in bullying and harassment and developing and sharing a toolkit for companies. It is based on the BFI and Bafta's Set of Principles and Guidance previously published in 2018, when media industry bullying was prominent in the news due to the Harvey Weinstein allegations. Those principles and guidance were updated with more anti-racism work in July 2020. BFI and Bafta also worked with Bectu on the related 'Dignity at Work' Policy.
More than 40 key industry bodies have now endorsed the Principles and Guidance, including recently added Casting Directors' Guild, as well as production company Fable Pictures, whose credits include Rocks and Wild Rose, which requires its crews to sign up to the principles; and agency Sara Putt Associates, which requires employers to agree to the principles in its deal memos with talent.
Anti-bullying measures
Additionally, the Film and TV Charity is launching improved bullying support services, such as the Bullying Pathway service, accessible via the charity's existing free hotline (0800 054 00 00), and the digital incident-reporting tool Spot, via the charity's website.
The Film and TV Charity published groundbreaking research in early 2020, before the pandemic, which revealed that 84% of film and TV industry workers in the UK had experienced or witnessed bullying or harassment. That was followed by The State of Play survey, published in January 2021 by Bectu, Bournemouth University and Viva La PD, which found that 93% of respondents working in unscripted TV have experienced bullying or harassment, with only 11% of those saying the incidents were satisfactorily resolved.
"This action list is a summary of the guidance and principles as requested by the industry," said Jen Smith, head of inclusion at the BFI. "We've been working on these policies and grown the amount of resources, such as the training available from ScreenSkills and the Dignity at Work campaign with Bectu. This really is a shared endeavour across the screen industries."
Tim Hunter, director of learning, policy and inclusion at Bafta, added that he hoped that more employers can see the preventative angles related to bullying, harassment and racism. "If you have a policy and procedure in place early, if you set a tone at the start of your production saying you will not tolerate these kind of behaviors, you can prevent these incidences from ever arising. Just taking these tools and applying them is your best protection.
"This action plan is about awareness, and giving the industry tools so they can deliver on the requirements of the law. We want to keep it in people's minds."