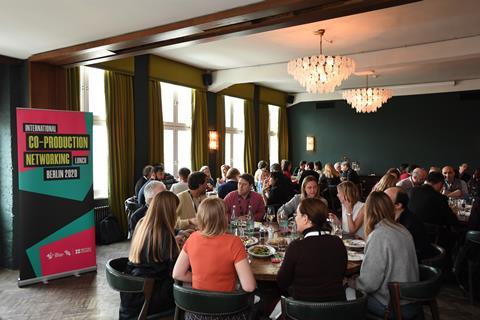 Less than a month after the UK's exit from the European Union, the British Film Institute has dispatched a senior delegation to the Berlin Film Festival to encourage collaboration between international and UK producers.
It marks the second annual co-production event that the UK's leading film body has organised in Berlin, together with the British Council, in a bid to partner producers, financiers, international co-pro initiatives and national film funds.
Recent BFI statistics showed a 37% upturn in international co-production activity and investment with the UK with £34.2m spent on production across 23 feature films in 2019.
Leading international firms due to attend a private networking lunch today include Charades, Medienboard Berlin-Brandenburg, Film i Vast, mk2 Films, Haut et Court, Level K, Telefilm Canada and The Match Factory. UK representatives in attendance include BBC Films and around 20 British writers, producers and directors.
Harriet Finney, director of external affairs for the BFI, told Screen: "A lot of the work we do in Berlin is making our European counterparts aware there are an awful lot of things that will continue as usual and making sure that we keep this cultural cooperation going through this [transition] period."
The British film industry is looking to the BFI as it seeks to help it make sense of a post-Brexit world. Questions that remain include whether the UK will be able to stay within the next Creative Europe programme and if there is now a case for the UK to rejoin Eurimages.
Ben Roberts, BFI chief executive, said: "One of the most important ways we can actively support our independent filmmakers and our global film culture is by bringing together producers with co-productions in development, helping to broker relationships and enabling creative and business collaborations across Europe and around the world."
Briony Hanson, British Council director of film, said: "It's been great to see the response from both UK and international participants to this event on its second outing, and it looks set to become an annual Berlinale date for the British Council alongside our partners at the BFI from now on.
"The idea of putting selected UK producers with projects looking for co-pro partners in a room together with a collection of handpicked international guests who might just be interested, is a no-brainer. Last year the chat was lively, collaborative, and seemed to have real impact – it's exactly what we're all supposed to be doing at festivals! – and we're looking forward to watching UK projects surge forward as a result of new international collaborations."