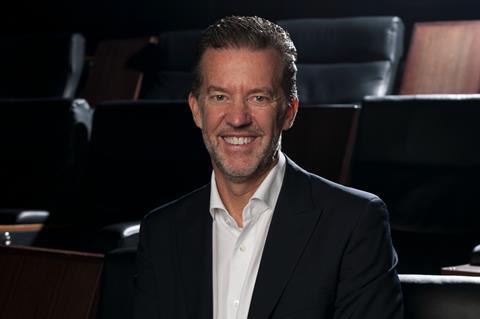 Tim Richards, the Toronto-born former lawyer turned founder and CEO of Vue International, is one year into his three-year stint as chair of the British Film Institute, since being appointed by the then-UK culture secretary Oliver Dowden in February 2021.
He is upbeat when talking about his five new board members this week, including Netflix global film head Scott Stuber, UK producer Elizabeth Karlsen and UK writer, director and producer Edgar Wright. Richards is keen to emphasise his commitment to creating a more inclusive board, with three further board members to join from Northern Ireland, Scotland and Wales later this year. It is understood those appointments will also take the board to near gender parity.
The arrival now of Stuber, Karlsen and Wright comes as Richards and his board work with BFI chief executive Ben Roberts to craft the priorities and ambitions of the BFI's new 10-year corporate plan and National Lottery funding strategy. It will be announced in the autumn and come into effect in April 2023. The second round of industry consultation will start later this month.
The presence of Stuber on the board of the UK's lead cultural body for film speaks both to the influence the US streamer now has on the independent UK film industry and the pragmatic attitude the BFI – and Richards – now have towards it in an industry forcibly transformed by the pandemic. It was only just over three years ago, in February 2019, that Vue threatened to pull its support from Bafta unless it changed its eligibility criteria to the film awards in light of the four prizes won by Alfonso Cuaron's Netflix-backed Roma. Richards described it as a "made-for-TV movie".
Richards' role as chair follows his seven years as a governor from 2013 until 2020. As 10 years is recommended as the longest time to serve on the BFI board, Richards has just two years to make his mark. He talks exclusively to Screen about what he hopes to get done.
You have been BFI chair for a year now. What have you achieved so far?
I saw last year as a time to lay down a foundation for the future, where we identified what we wanted to do and then had a vision of moving forward. It was about building a team internally at the BFI and at the board of governors to assist Ben [Roberts, BFI CEO]. Ben is rebuilding, based on a vision of where he wants to take the BFI.
What do you, as the founder of Vue Cinemas, and a long-time BFI governor, bring to the position of chair?
In the last 30 years I have served on the board of pretty much every media group, ranging from Bafta to Skillset [now ScreenSkills] to BSAC to Film London and so forth. I bring a broad background and I also bring my skills as an entrepreneur.
One of the original reasons I joined the BFI is that I saw this incredible organisation with a massive amount of potential and I wanted to help it really achieve that potential. Now I want to get a balanced board with all the particular skillsets, with top executives globally in the field of independent films, commercial films, education, skills, and also gaming.
The three aims of the BFI2022 plan were building audiences, learning and skills, and developing talent with an emphasis on diversity. Do you think these have been broadly achieved, and where is there still work to be done?
There is a huge amount of work left to be done, particularly in the areas of diversity and skills. The successes we are experiencing in the UK right now are due to the investment in education and skills that we made 20 years ago. We can't take our foot off the gas. We have to invest in the future and identify tomorrow's filmmakers and support those filmmakers.
This isn't just about being an actor or a director or a producer, this is all skills. A carpenter, set design, hairdressing. We need skills everywhere. The UK has been a global leader in skills. It's why the studios, the filmmakers, want to shoot their films in the UK. It's not just the tax credit, not just the common language. It's a great place to be but it's because of the incredible skills we have here, spread across the whole process.
What are the BFI's priorities going forward? For example, is the BFI looking to change how it invests its money? Will there be a change in focus in how production is funded? What about training, exhibition, festivals, the archive, distribution?
The key focus and one of the greatest challenges currently facing our sector right now is on education and skills. As the sector experiences such rapid growth and increased production, we need to ensure we have a skilled workforce to meet the demand. Later this month the BFI will be publishing an in-depth skills review on behalf of the DCMS [Department for Digital, Culture, Media & Sport] which will highlight the scale of the skills requirements for the UK film and high-end television production and VFX industries.
We are also looking at how best to bring the BFI into the digital realm by creating greater access, not just in the UK but globally to the BFI national archive, the world's largest film and television archive, which is a key element of the BFI's mission.
Who is leading on the BFI's new 10-year strategy?
It's absolutely led by Ben.
Does the DCMS sign off on it?
Yes they do. We have a very close working relationship with the DCMS and the government. They are very supportive so there are no surprises. We work with them in a very transparent way on a regular basis.
The 2017-22 plan was based on a five-year investment of nearly £500m. Is the 10-year strategy working to a budget of £1bn?
That is not finished yet so I don't think it is appropriate to comment on that. It is something we are working on with the DCMS as part of our plan. We will put in a budget that is appropriate to achieve the aims we have.
The existing strategy is funded by government grant-in-aid, BFI earned income and National Lottery funding. Will this stay the same?
Yes. The DCMS and the government have been hugely supportive and we are working very closely with them, particularly on the [government's national] 'levelling up' agenda. If you look at the composition of the board, for the first time we are going to have representatives from all the nations on the board, from Scotland, Northern Ireland and Wales. It's part of trying to be considerably more representative as a board and as an organisation. We are very close to having equal gender representation and we are working on improving our ethnic and cultural diversity as well.
Given the rise in inflation, energy costs and general squeeze on household budgets in the UK, is the income the BFI receives from the National Lottery predicted to rise, fall or stay the same? Do you worry about that?
Like any organisation you have to build your case. That's what we're working on right now. We've got a strong case for investment in the sector. Pre-Covid and now coming out of the pandemic, we are the fastest-growing sector of the economy. We are creating more jobs than any other sector. This is an industry that is extremely important to the country, both culturally and economically.
What do you hope new board member Scott Stuber – an American, who works in the US for a US company – will bring in terms of experience and influence to the strategic aims of the UK's leading cultural body for film?
Scott is one of the most highly respected executives in the industry. We are very fortunate to have people like Scott, and I could say that about our entire board for every single individual. We have top, top people from all sectors. With Scott, I wanted to look globally to who I thought were the top executives. Scott's background, and real passion, is independent film and commercial film, which made him an incredible candidate. If you look at how much Netflix has invested in independent film globally, in different countries, he just felt like the natural choice.
When the Netflix-backed Roma won four awards at the Baftas in 2019, you wrote an open letter to Bafta describing Roma as a "made-for-TV" movie and threatening to withhold Vue's support from Bafta unless it changed its eligibility criteria. What has changed since then?
I am a long-term big supporter and former council member of Bafta. My concern three years ago was simply that Bafta needed to create a level playing field for filmmakers and not be going against their own rules. I subscribe to and am a huge fan of Netflix and other subscription services. The industry has proven that we can co-exist and that we're really one ecosystem.
Is the fact the BFI administers the Global Screen Fund a sign of how the organisation is becoming more international in its outlook?
The BFI needs to oversee what's happening in the UK first and international second. Our support of the independent film sector in the UK is front and centre. We've got some of the top filmmakers in the world. We want to identify the next generation of top filmmakers. That is representative of our board as well.
You have a busy day job leading Vue. How much of your time do you spend on BFI work?
It varies from week to week. There are times when I will spend a couple of hours after work at night working on BFI issues and also on weekends. It's something that I believe in and believe I can help take it to the next step.
Are you going to Cannes?
Yes. We have hosted a lunch every year for a very long time and we hope to start that again. We're also hoping to spend time with some very generous supporters of the BFI.
What are some of your favourite BFI-backed films you've seen recently?
One of the films that really represents the modern, new BFI is The Phantom Of The Open. It's a quintessential British independent film, a great story that's also commercial. It's a great film. It's films like that that show that independent British and commercial can co-exist. After Love is another quintessential British film: incredible performances, a great story, with a new director and new talent blending in with experienced talent. It's also award-winning, recognised and acknowledged by others.
Your three-year contract, following seven years as a governor, means you will have to step down just one year into delivering the new strategy.
Yes, there's a 10-year recommended ceiling that I am busting up against unfortunately. My only goal right now is to support Ben and work with Ben's vision and leave a foundation at board level for the next five to 10 years. The new board we have has been six to nine months in the making and we are going to have a full board retreat next month.
What will success look like for you at the end of your three years?
Achieving the objectives we are setting out right now. It's putting the proverbial train on the tracks. Last year and this year are the foundation. I'm hoping that in year three we will see the fruits of that investment.