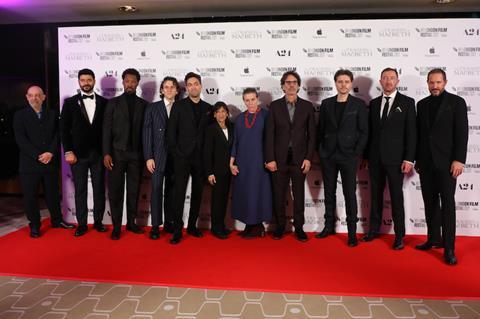 The BFI London Film Festival (LFF) has recorded 291,000 attendees across both physical and digital at its 2021 edition, held this month from October 6-17.
The number of guests attending physical screenings at the festival was 139,400, including the LFF Expanded exhibition for VR, XR and AR content. This number is 26.6% down on the physical attendance for the 2019 edition, with the 2020 festival having taken place predominantly online due to the pandemic.
The 291,000 figure is 7.6% down on last year's record-breaking 315,000 attendance figure, which consisted primarily of online viewers.
The 2021 festival included 161 feature films, with 21 world premieres, seven international premieres and 12 European premieres.
Seventy-seven countries were represented in the programme, with 39% of the programme coming from female and non-binary directors or co-directors, and 40% from ethnically diverse directors or co-directors.
The awards were announced online on Sunday, October 17, with Panah Panahi's Hit The Road winning the best film award in LFF's official competition.
Last week the festival contacted an as-yet-unspecified number of guests to inform them of "a small number" of positive Covid-19 tests among people who had attended events on the final weekend of the festival. The festival later confirmed to Screen that as of Wednesday, October 20, two people who had attended the closing weekend events had subsequently tested positive.
For the first time this year, the festival used the Southbank Centre's Royal Festival Hall for its gala screenings; and repeated last year's pan-UK screenings by partnering with 10 venues across the country.
"We are over the moon with the results of this year," said LFF director Tricia Tuttle. "The team absolutely exceeded themselves. Of course, there were still major challenges but we brought the best of 2020 into our model, presenting physically, digitally, UK-wide and internationally, and of course working with a major new gala venue partner the Southbank Centre.
"I could not have hoped for better results, and it was great to feel and hear how much it meant to filmmakers, artists, audiences and the industry to be out in force with real vibrancy and a sense of major occasion."
Speaking at last week's UK Cinema Association conference, BFI CEO Ben Roberts described the 2021 festival as "the most successful edition in recent memory".
Financial takings for the 2021 edition are yet to be confirmed, as are the dates for the 2022 edition.