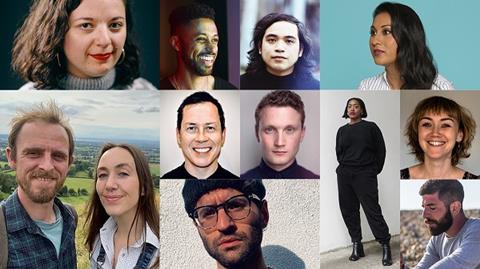 The British Film Institute (BFI) Network has announced the 12 filmmakers who will take part in the London Film Festival's (LFF) annual professional development programme, Network@LFF.
The programme, now in its seventh year, is supported by the BFI with National Lottery funding, and will take place from October 8-11.
The 12 filmmakers were selected from 360 applicants. The BFI said the programme "celebrates difference in approach and perspective, and seeks out filmmakers looking to disrupt conventions".
This year's line-up includes Bifa-nominated writer, director and producer Jessi Gutch, whose experience of living with ovarian cancer has inspired her to tell stories about the disease through film, and led to her first industry commission, The Forgotten C.
Also taking part will be Filipino writer-director Rafael Manuel, whose latest short Filipiñana won the Silver Bear jury prize at the 70th Berlin International Film Festival, and horror filmmakers Sophie Mair and Dan Gitsham, who are real-life and professional partners. Their BFI Network and Gunpowder & Sky-financed short The Thing That Ate The Birds premiered internationally at SXSW 2021.
Scroll down for the full list of participants
The programme includes masterclasses, screenings, networking and one-to-one sessions with visiting international filmmakers and executives who are screening work at the LFF.
"It is a privilege to be able to select the participants of Network@LFF, since they are the filmmakers whose work will fill the pages of festival brochures for years to come," said James Weddup, interim head of BFI Network. "We are putting together an intensive programme, which promises to challenge and enrich this year's emerging producers, writers and directors, while also giving them the opportunity to be immersed in the LFF and interact with leading international filmmakers and execs.
"In terms of interdisciplinarity, range of genre and sheer verve, this is one of the most exciting cohorts we have seen."
Previous participants include Limbo writer-director Ben Sharrock, Animals producer Sarah Brocklehurst, After Love writer-director Aleem Khan, Censor writer-director Prano Bailey Bond, and Ruth Paxton, the director of A Banquet.
Network@LFF 2021 filmmakers
Reece Cargan – producer
Jessi Gutch – writer-director-producer
Tina Pasotra – writer-director
Theo James Krekis – writer-director
Rafael Manuel – writer-director
Miles Sloman – writer-producer
Sophie Mair and Dan Gitsham – writer-director
Alia Ghafar – writer-director
Isaac Tomiczek – writer-director
Eloise King – writer-director
Savvas Stavrou – writer-director