EXCLUSIVE: Hybrid work stars singer Neneh Cherry in debut acting role.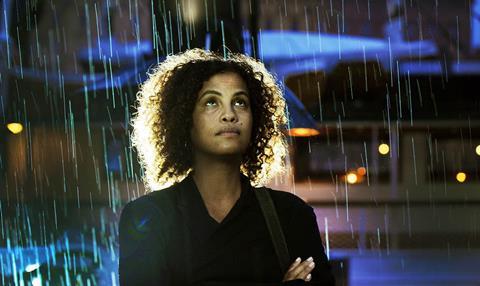 The BFI has acquired UK and Ireland distribution rights to Mark Cousins' Stockholm My Love which world premieres at the BFI London Film Festival today (Oct 11).
The work marks a first fiction feature for experimental documentary-maker Cousins whose recent titles include Life May Be and 6 Desires: DH Lawrence And Sardinia.
Swedish-born Buffalo Stance singer Neneh Cherry makes her acting debut as Alva, a Swedish architect suffering from debilitating depression following a traumatic traffic accident.
As the first anniversary of the incident approaches, Alva abandons her work to walk the streets of her beloved home city of Stockholm, exploring her past and the event that triggered her depression.
Cherry provides a poetic voiceover and sings five songs for the eclectic soundtrack, which also includes music by ABBA co-founder Benny Anderson and 19th-century composer Franz Berwald.
The film sees Cousins collaborate for a second time with legendary cinematographer Christopher Doyle, who previously shot his 2015 poetic documentary I Am Belfast.
Cousins co-wrote the screenplay with Swedish producer Anita Oxburgh.
Stockholm-based Oxburgh also produced under her Migma Film banner alongside Mary Bell and Adam Dawtrey for the UK's Bofa Productions.
Dawtrey negotiated the UK distribution deal – which includes home entertainment rights – with Jane Giles and Agnes Orosz for the BFI.
"How wonderful to have Neneh Cherry shot by Christopher Doyle on the big screen in Mark Cousins' beautiful and moving first fiction feature! The BFI is very much looking forward to unleashing the Love," said Jane Giles, Head of Content at the BFI.
Fortissimo was previously handling international sales prior to filing for voluntary bankruptcy over the summer. Discussions are now underway for a new sales agent.
The BFI is planning to release the film theatrically in mid-2017.
Alongside handling re-issues, the BFI also distributes one to two new titles a year. Other recent titles include Andre Singer's Night Will Fall and Cousins' I Am Belfast.
A Swedish-UK co-production, Stockholm My Love is funded by the Swedish Film Institute, Creative Scotland, BBC Films, Film Capital Stockholm via Filmregion Stockholm-Mälardalen, and SVT. The Swedish distributor is TriArt.