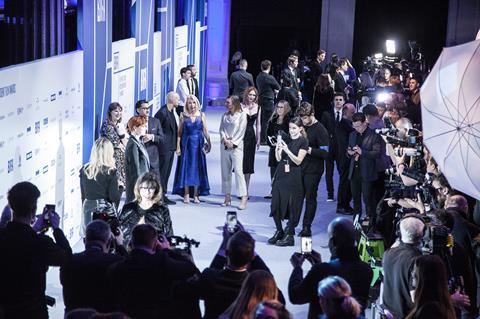 Charlotte Regan's Scrapper, Raine Allen-Miller's Rye Lane and Molly Manning Walker's How To Have Sex are among the 35 features on the British Independent Film Awards (BIFA) Filmmaker New Talent longlists for 2023.
The ceremony has released longlists for four awards: the Douglas Hickox Award (Best Debut Director), Best Debut Screenwriter, Best Debut Director – Feature Documentary and Breakthrough Producer.
Scroll down for the full New Talent longlists
Eight films have been longlisted in three of the four categories: Earth Mama, Femme, In Camera, Pretty Red Dress, Raging Grace, Rye Lane, Scrapper and The Teacher.
Other filmmakers on the longlists include Kibwe Tavares and Daniel Kaluuya for The Kitchen, with Kaluuya also included in debut screenwriter (written with Joe Murtagh).
The 35 films consist of 20 fiction and 15 documentary features, from a record number of British film entries. There are 19 first-time fiction directors, 17 first-time documentary directors, 17 first-time writers and 24 breakthrough producers.
The longlist for the Breakthrough Performance award for acting talent will be announced on Tuesday, October 24.
The final five nominations in each category will be announced on Thursday, November 2; with winners revealed at the 26th BIFA ceremony on Sunday, December 3.
BIFA 2023 New Talent Longlists
The Douglas Hickox Award (Best Debut Director)
Prasanna Puwanarajah - Ballywalter
Savanah Leaf - Earth Mama
Mahalia Belo - The End We Start From
Sam H Freeman, Ng Choon Ping - Femme
Adura Onashile - Girl
Molly Manning Walker - How To Have Sex
Naqqash Khalid - ­In Camera

Neil Boyle, Kirk Hendry - Kensuke's Kingdom
Kibwe Tavares, Daniel Kaluuya - The Kitchen
Nida Manzoor - Polite Society
Dionne Edwards - Pretty Red Dress
Paris Zarcilla - Raging Grace
Raine Allen-Miller - Rye Lane
Charlotte Regan - Scrapper
Moin Hussain - Sky Peals
Farah Nabulsi - The Teacher
Best Debut Screenwriter
Savanah Leaf - Earth Mama
Sam H Freeman, Ng Choon Ping - Femme
Adura Onashile - Girl
Molly Manning Walker - How To Have Sex
Naqqash Khalid - In Camera
Daniel Kaluuya - The Kitchen (Also Written By Joe Murtagh)
Alex Mackeith The Lesson
Angeli Macfarlane - LOLA (Also Written By Andrew Legge)
Nida Manzoor - Polite Society
Dionne Edwards - Pretty Red Dress
Paris Zarcilla - Raging Grace
Nathan Bryon, Tom Melia - Rye Lane
Charlotte Regan - Scrapper
Moin Hussain - Sky Peals
Farah Nabulsi - The Teacher
Best Debut Director - Feature Documentary
Oscar Harding - A Life On The Farm
Christopher Morris - A Year In A Field
Sophie Compton, Reuben Hamlyn - Another Body
Christopher Sharp - Bobi Wine: The People's President (Also Directed By Moses Bwayo)
Franky Murray Brown - Dalton's Dream (Also Directed By Kim Longinotto)
Rich Felgate - Finite: The Climate Of Change
Alice Russell - If The Streets Were On Fire
Ella Glendining - Is There Anybody Out There?
Eva Weber - Merkel
Peter Beard, Bruce Fletcher - Otto Baxter: Not A F***Ing Horror Story
Kate Stonehill - Phantom Parrot
Kit Vincent - Red Herring
Jane Giles, Ali Catterall - Scala!!! Or, The Wildest Cinema And How It Influenced A Mixed-Up Generation Of Weirdos And Misfits
Chloe Abrahams - The Taste Of Mango
Breakthrough Producer
Sophie Compton, Reuben Hamlyn - Another Body (Also Produced By Elizabeth Woodward)
Lorine Plagnol - Dalton's Dream (Also Produced By Kim Longinotto)
Medb Riordan, Shirley O'Connor, Savanah Leaf - Earth Mama (Also Produced By Cody Ryder And Sam Bisbee)
Sam Ritzenberg, Myles Payne - Femme
Gannesh Rajah - If The Streets Were On Fire
Juliette Larthe - In Camera (Also Produced By Mary Burke)
Fleur Nieddu, Edward Lovelace, Sam Arnold, Beyan Taher, Neil Andrews - Name Me Lawand (Also Produced By Marisa Clifford)
Georgia Goggin - Pretty Red Dress
Chi Thai - Raging Grace
Yvonne Isimeme Ibazebo - Rye Lane (also produced by Damian Jones)
Theo Barrowclough - Scrapper
Adam Deacon, Jazzie Zonzolo - Sumotherhood (Also Produced By Finn Bruce)
Farah Nabulsi, Sawsan Asfari - The Teacher (Also Produced By Ossama Bawadi)
Juliet Dowling - The Unlikely Pilgrimage Of Harold Fry (Also Produced By Marilyn Milgrom And Kevin Loader)