The 27th Tokyo International Film Festival (TIFF) has announced its opening film will be the world premiere of Disney animation Big Hero 6.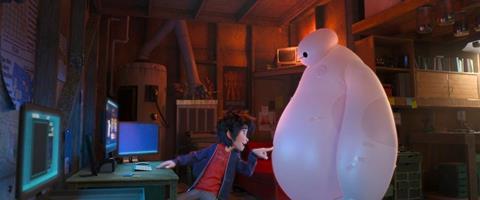 The closing film will be the world premiere of Parasyte, the live-action adaptation of the Japanese manga, directed by Takashi Yamazaki (The Eternal Zero).
Big Hero 6 directors Don Hall and Chris Williams said: "It is truly an honor to be selected as the opening film. The setting of our film, San Fransokyo, is a fictional, futuristic mash-up of two of our favorite cities in the world – San Francisco and Tokyo, and the research we did in Tokyo informed every detail of the film. We look forward to bringing out film to this city that so deeply inspired us."
The animation features a 14-year-old robotics prodigy and a robot called Baymax that join forces with a team of crimefighters to save the city. Voice actors include Scott Adsit, Ryan Potter and Daniel Henney.
With this year's TIFF focusing on animation, the fest's managing director Nobushige Toshima said it was an honor to have the film open the fest and added: "We think it is significant that Big Hero 6 will be screened at Tokyo International Film Festival as this film is deeply influenced by Japanese culture."
Walt Disney Studio Japan is releasing the film locally Dec 20.
Yamazaki, the director of Parasyte said: "We live in troubled times, and Parasyte starts a conversation about how the human species will survive. I think it is significant that Parasyte has been selected as the closing film for a major film festival like TIFF."
The film was adapted from Hitoshi Iwaaki's manga published in the Gekkan Afternoon magazine from 1990 to 1995 and sold 11 million copies. Shota Sometani, Eri Fukatsu and Ai Hashimoto star.
Toho is releasing the film locally Nov 29.
TIFF this year will run Oct 23-31 at Roppongi Hills, Toho Cinemas Nihonbashi and other venues in Tokyo.
TIFFCOM 2014 as part of Japan Content Showcase 2014 will run Oct 21-23 at the Grand Pacific Le Daiba in the Tokyo Bay area.