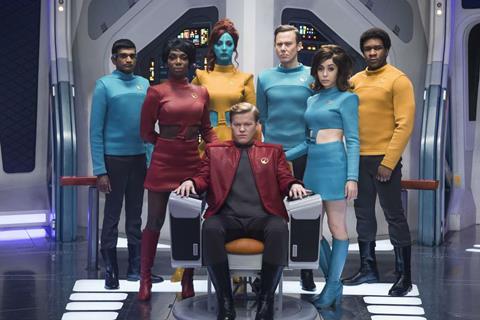 British-originated Netflix dramas Black Mirror and The Crown each took home three awards at the Creative Arts Emmy Awards last night.
USS Callister, the opening episode of the second Netflix series of House of Tomorrow's anthology series, was named outstanding television movie.
The episode also picked up awards for picture editing and sound editing for a single camera movie or mini-series.
Meanwhile, series two of Left Bank's royal saga The Crown took home awards for drama casting, period costumes and cinematography for an hour-long single-camera series.
Elsewhere, David Attenborough won for his narration of the One Ocean episode of Blue Planet 2 at the US equivalent of the Bafta TV Craft awards, which act as a precursor to the main Emmy ceremony on 17 September.
HBO won the lion's share of trophies with 17 awards, including seven for Game of Thrones, while Netflix won 16 and NBC 15.
Other notable winners included three gongs for Avalon's HBO show Last Night with John Oliver and three for Fulwell 73: one for Carpool Karaoke and two for James Corden's The Next James Corden.
The awards also made history for awarding all four guest actor awards to black performers, including Tiffany Haddish's guest host spot on Saturday Night Live. NBC's long-running comedy show won in six categories.
The late Anthony Bourdain won six posthumous trophies for his series Parts Unknown.
This article first appeared on Screen's sister site Broadcast.