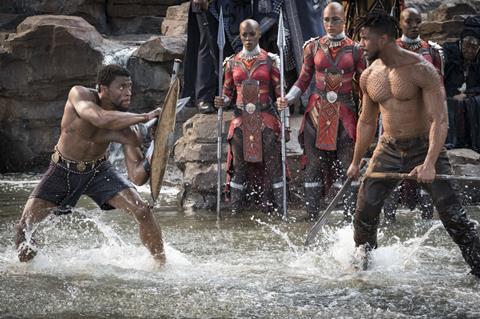 FEBRUARY 16 UPDATE: Marvel Studio's blockbuster-elect Black Panther starring Chadwick Boseman has leapt to $72.2m worldwide in its first three days.

The tally includes $47m from 40 markets and $25.2m from Thursday previews in North America. The UK leads the way on $10.1m after three days, followed by South Korea on $9.5m after two, Taiwan on $2.4m after three, France on $2.3m after two, and Australia on $2.3m in the third biggest opening day of all time.
In other opening days, Black Panther delivered $1.9m in Brazil and $1m in Germany. The film arrives in Spain, Mexico, Finland, India, and South Africa on Friday, and in Russia February 22, Japan on March 1, and China on March 9.
FEBRUARY 15 REPORT: Marvel Studio's latest tentpole Black Panther starring Chadwick Boseman has leaped to $23.2m from its first 17 international markets in two days.
By the end of the weekend, Disney executives said the release will be active in roughly 70 of the international footprint.
Black Panther delivered the highest opening day of the year-to-date in the UK in local currency terms – £2.67m ($3.69m), rising to $7.2m after two days – followed by South Korea on a record-breaking February launch day of $4.2m.
The South Korean debut also produced the second biggest MCU/Marvel opening day behind Avengers: Age Of Ultron, and the industry's seventh biggest opening day.
Elsewhere, Ryan Coogler's action thriller stands at $2m in Taiwan, $1.6m in France where it posted the biggest opening day so far in 2018, $1.1m in Hong Kong, $1m in both Malaysia and Thailand, and $800,000 in both Philippines and Indonesia.
Black Panther scored the biggest opening day of 2018 in the Netherlands on $500,000, and the biggest February opening day in Malaysia, Thailand, Philippines, Indonesia.
It opens on Thursday in It launches in Germany, Australia, Germany and Brazil, as weas previews in North America.
Pixar's Coco stands at $513.5m, and Star Wars: The Last Jedi has grossed $709.7m
Fox Searchlight's Three Billboards Outside Ebbing, Missouri crossed $100m worldwide on February 12 and stands at $103.5m, of which $57.2m comes from international and the $46.3m balance from North America. It opens in Brazil this weekend.
The Shape Of Water launches in roughly 12 new territories his weekend including the UK, Germany, Spain, Italy and Sweden and currently stands at $25.4m. The Greatest Showman on $171.7m arrives in Japan. Ferdinand will cross $200m this weekend. Poised n $195.7m, the animation ventures into Hong Kong and Taiwan.
The 15:17 To Paris has grossed an early $7.8m through Warner Bros Pictures International, while The Disaster Artist stands at $7.5m, Geostorm $186.6m, and Father Figures $4.6m ahead of debuts in the UK and Germany.