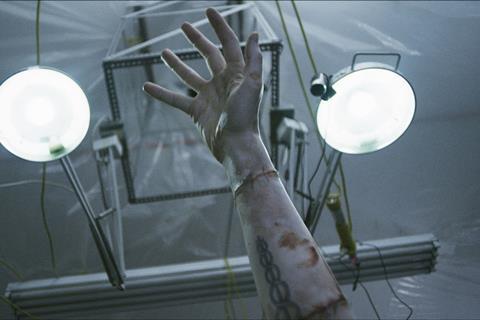 UK distribution outfit Blue Finch has boarded UK and Ireland distribution on Larry Fessenden's horror Depraved.
The company is planning a winter release on the title, which recently had its UK premiere at horror festival FrightFest. It has also played festivals including Fantasia and Sydney.
Genre sales outfit Yellow Veil Pictures handles rights and struck the deal with Blue Finch.
Depraved is a contemporary re-imaging of Mary Shelley's Frankenstein, centring on a field surgeon (played by David Call) who creates a man out of body parts in a makeshift lab in Brooklyn. After being successful in his endeavour but consumed with remorse over the results, he tries to protect his creation (played by Alex Breaux) from the world. Also starring are Joshua Leonard, Ana Kayne, Chloe Levine, and Addison Timlin.
The project was produced by Fessenden, Chadd Harbold and Jenn Wexler for New York outfit Glass Eye Pix and executive produced by Joe Swanberg, Peter Gilbert, Andrew Mer, and Edwin Linker of Forager Film Company.
Blue Finch, which was formed in August 2018 by distribution executive Mike Chapman with Simon Crowe of SC Films and tech entrepreneur Matthew Joynes, also has rights to three other titles from FrightFest: Abdelhamid Bouchnak's Dachra, which closed Venice Critics' Week last year; Slamdance comedy horror The Drone; and Blumhouse-produced Bloodline starring Seann William Scott.