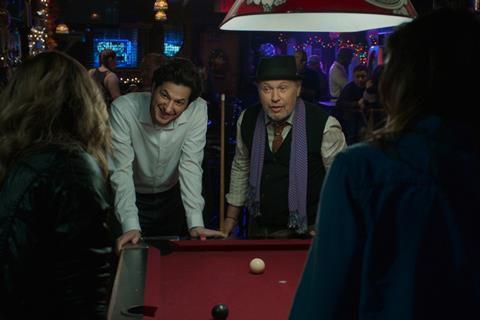 Blue Fox Entertainment has added the Billy Crystal and Ben Schwartz (Parks And Recreation) Tribeca Film Festival comedy Standing Up, Falling Down to its Cannes international sales slate.
Eloise Mumford, Grace Gummer, Nate Corddry and with Debra Monk also star in Matt Ratner's feature directorial debut about a 34-year old aspiring comedian (Schwartz) who returns to his parents' home and strikes up a mutually supportive friendship with an eccentric dermatologist (Crystal). Peter Hoare wrote the screenplay.
CAA handling US rights on Standing Up, Falling Down, which marks the feature directorial debut of Tilted Windmill Productions' Matt Ratner, who produced alongside Chris Mangano for Mangano Movies & Media, and Rick Rosenthal (Bad Boys) for Whitewater Films, John Hermann, and Gabrielle Nadig.
Crystal, Schwartz, and Hoare served as executive producers with Bert Kern, Nick Morton, Matt Bronson, Matt Jacobs, and Alexander R. Madorsky. The film was produced in association with Crystal's Face Productions.
Blue Fox Entertainment senior vice-president of marketing and distribution Audrey Delaney brokered the deal with Ratner on behalf of the filmmakers.