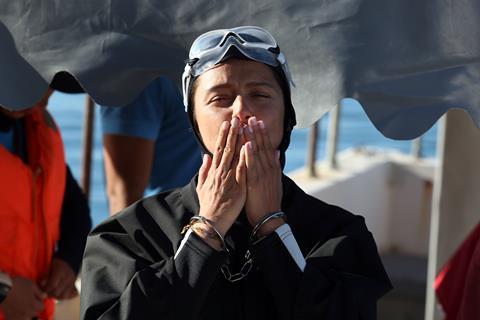 LA-based Blue Fox Entertainment has added Sahar Mosayebi's real-life Iranian swimmer drama Orca and to its growing Cannes sales.
The Iranian drama follows a woman who survives a horrific attack by her estranged husband and finds solace as an endurance swimmer, eventually overcoming political and religious hurdles in a bid to swim further than anyone has done before with her hands bound. Taraneh Alidoosti, whose credits include The Salesman, stars with Mahtab Keramati star.
Tala Motazedi wrote the Orca screenplay and Tahoora Abolghassemi, Ahmed Al Baker, Luca Bercovici, and Mahtab Keramati are producers. Blue Fox Entertainment will distribute in North America via a limited platform release in early 2023 after company founder James Huntsman negotiated the deal with WME Independent.
The Cannes slate overseen by EVP international sales and acquisitions Lisa Gutberlet also includes US young adult thriller Jane, with Madelaine Petsch of Riverdale and Chloe Bailey. Blue Fox will release the film theatrically in autumn in the US in an innovative model day-and-date with a geo-blocked premium TVoD window set up by producers Creator + to capitalise on the social media following of Petsch and other cast. (Blue Fox releases French romance Eiffel in North America on June 3.)
The sales roster includes Jim Gaffigan SXSW comedy Linoleum, drama One Winter with Julian Dennison, Minnie Driver, and James Rolleston, and coming-of-age drama Signs Of Love, starring Hopper Penn and Dylan Penn.
The company recently acquired Crossroad Lending and formed digital film financing hub Blue Fox Financing, a transactional digital platform run by Patrick Rizzotti to help cash-flow production on independent films and connect filmmakers with a database of film and television lenders and equity financiers.
"For many filmmakers in the independent space, even they've made many movies, the financing, distribution and international sales piece is still a foreign language to them," said Huntsman, who added the platform will handle mostly third-party titles.
Blue Fox is not looking to invest and own the content but it may elect to come on board as distributor or sales agent in some cases. Since launch, approximately 18 titles are on board.