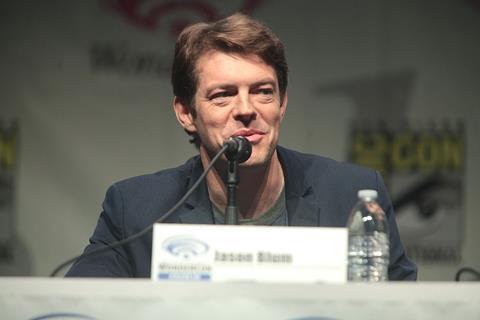 Jason Blum (pictured at left) and Charles Layton, founder and president respectively of Blumhouse Productions, and Tom Quinn and Tim League, founders of recently launched Neon, have formed a partnership to manage the genre label, BH Tilt.
Blumhouse launched the Tilt label in 2014 to explore new distribution and marketing strategies for micro-budget films and has up until now managed the label entirely in-house. To date, BH Tilt has released eight films in partnership with Universal's OTL Releasing including The Darkness, The Belko Experiment and Lowriders.
Quinn and League launched Neon in January at the Sundance Film Festival, where it acquired Matt Spicer's Ingrid Goes West and Eliza Hittman's Beach Rats. Neon has offices in New York, Austin and Los Angeles, and has committed to a unique approach to distribution and building a vibrant home for auteur-driven cinema. Neon's diverse slate includes Nacho Vigalondo's critically acclaimed high-concept film Colossal and Laura Poitras' Risk. The company recently released Ingrid Goes West.
"After two years of experimentation and learning with the BH Tilt model, we are thrilled to join forces with Tom and Tim in a partnership for Tilt's next phase, which we believe will lead to long-term sustainable success," Blum said. "Tom is known throughout the industry for his leadership in pushing forward new strategies for alternative distribution and Tim is a savvy entrepreneur who built the most beloved indie cinema chain in America. They've also carved out an impressive track record discovering and supporting some of today's top genre filmmakers. We could not be more enthused for them to come on board at this point in Tilt's evolution."
Quinn and League added: "Jason Blum has built a powerhouse label in BH Tilt. Our partnership marks a milestone in the industry, in which we've decided to join forces with a common commitment to create the premier genre label. We couldn't be more excited about what this means for the future of genre films and fans."