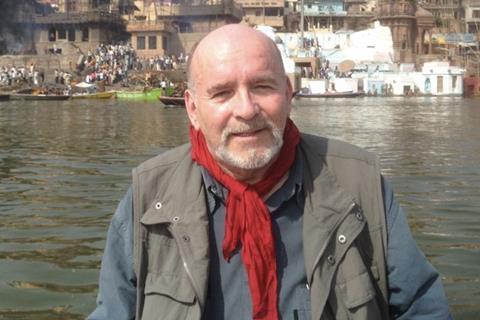 London-based producer Nigel Goldsack, whose credits include The Merchant Of Venice and The World Is Not Enough, died suddenly aged 62 on October 18.
Goldsack was born in Walton-on-Thames, Surrey, in 1957 and was involved in film from an early age, working as a runner on Blake Edwards' The Pink Panther Strikes Again while he was a teenager.
He began his career in the late 1970s as an assistant director on several independent UK films, including Brian Gibson's rock drama Breaking Glass, DH Lawrence biopic Priest Of Love starring Ian McKellen, and Edward Bennett's Ascendency, which went onto win the Berlin Golden Bear in 1983.
Goldsack then moved into location manager roles, such as 1984 Christmas Carol TV movie starring George C. Scott, John Landis comedy Spies Like Us, and Brian De Palma's Casualties Of War, before spending the rest of his career as a producer, co-producer and executive producer.
A few of his many projects include James Bond titles The World Is Not Enough and Tomorrow Never Dies; A Midsummer Night's Dream with Michelle Pfeiffer and Rupert Everett; Hugh Hudson's My Life So Far with Colin Firth; Head In the Clouds with Charlize Theron and Penelope Cruz; The Merchant Of Venice, starring Al Pacino in 2004; and Tom Cullen's Pink Wall which premiered at this year's London Film Festival.
He also consulted on Game Of Thrones and Prince Caspian, and helped develop films with the likes of Werner Herzog, Mike Newell and Michael Radford.
Goldsack also ook part in an expedition to climb Mount Everest mounted by SAS founder David Stirling, to film the ground-breaking documentary Ocean In The Sky, which was the first time professional camera equipment had been used at such high altitudes.
Goldsack also produced and edited a 45-minute documentary helping to fundraise for the Maydan Margah Mother Child Hospital in the Panjshir region of Northern Afghanistan.
At the time of his death he working as a co-producer on another Shakespeare adaptation starring Al Pacino, King Lear directed by Michael Radford.
Veteran assistant director Michael Stevenson paid tribute to Goldsack, telling Screen: "He was always there for me when I needed him, especially during the shooting of Brian De Palma's film Casualties Of War in Thailand. During that time my mother died, I will never forget the care and support that Nigel gave me at that difficult time. He was a kind, generous and truly great friend whom I will never forget."
Goldsack is survived by wife Debbie, daughters Georgia and Emma, and son Alex.