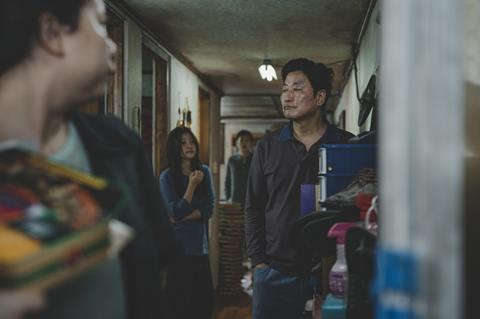 South Korea's CJ Entertainment has locked multiple pre-sales deals on Okja director Bong Joon Ho's latest project Parasite and has picked up international sales rights on Starry Starry Night director Tom Lin's The Garden Of Evening Mists, adapted from the Man Booker Prize-nominated novel of the same title.
Parasite is Bong's return to Korean-language filmmaking after Okja and Snowpiercer, and stars Song Kang Ho in his fourth collaboration with the director. The film has sold to North America (Neon), German-speaking Europe (Koch Films), French-speaking territories (The Jokers Films) and Japan (Bitters End).
The story follows the character of Ki-taek and his unemployed family as they take a peculiar interest in the Park family – until they get entangled in an unexpected incident.
Song stars as Ki-taek alongside Lee Sun-kyun (A Hard Day) and Cho Yeo-jeong (Obsessed) as the Parks, and Choi Woo Shik (Okja), Park So-dam (The Priests) and Chang Hyae Jin (Poetry) as, respectively, Ki-taek's son, daughter and wife.
Currently in post after wrapping production in September, the film is set for local release in 2019.
The Garden Of Evening Mists is an Astro Shaw, HBO Asia production joined by the National Film Development Corporation Malaysia (FINAS). UK screenwriter Richard Smith adapted Malaysian author Tan Twan Eng's novel for the screen, and Taiwanese filmmaker Lin is working with an international cast that includes Malaysian actress Sinje Lee (The Eye), Japanese actor Hiroshi Abe (After The Storm), Taiwanese actress Sylvia Chang (Love Education) and UK actors David Oakes, Julian Sands and John Hannah.
The film tells the story of Teoh Yun Ling who, embittered about atrocities that took place in Malaya during the Second World War, seeks solace in the Cameron Highlands in Pahang, Malaysia. In her quest to build a garden there as an homage to her late sister, she embarks on a forbidden love affair with a mysterious gardener named Nakamura Aritomo.
The official country of production is Malaysia. Dialogue is mainly in English with Cantonese, Japanese and Malay as well. The film wrapped in August and is now in post-production.