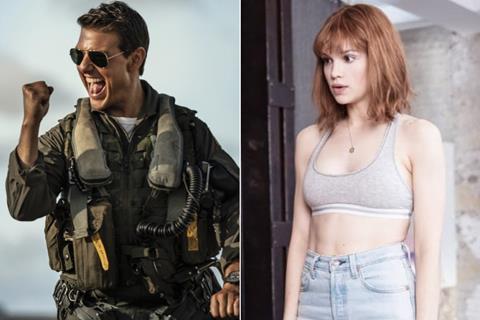 Box office figures for North America, France and Germany are tracking at about two-thirds of pre-pandemic levels for the first half of 2022, with a gentler recovery still in Spain and even slower in Italy.
The figures, provided by Comscore, show all five territories are tracking behind the UK and Ireland's recovery, which was at 80% of 2019 figures for the comparable first six months of 2022.
US
In the US (excluding Canada), the first six months of 2022 brought in $3.6bn – 67.1% of the $5.4bn from the equivalent period in 2019. That has been boosted by the strong performance of Paramount's Top Gun: Maverick, which contributed $538m in the US and Canada by June 30, and is now up to $637m as the ninth-highest-grossing film of all time in the combined market.
France
In France, the 2022 figure is at 68.6% of 2019 levels – slightly up on the US but still down on the UK and Ireland. Comscore measures via admissions for France, with 64.3 million for 2022 at the 25-week point, compared to 93.8 million in 2019. Top Gun: Maverick also leads the way there and is now up to €39.1m; while the highest-grossing French-language title is franchise comedy Serial (Bad) Weddings 3, released in April by UGC Distribution and now at €17.3m.
Germany
In Germany, half-year box office was at 66.9% of 2019 levels for 2022, with a €282.6m total compared to €423.1m. Warner Bros' Fantastic Beasts: The Secrets Of Dumbledore is the top film there, with €31.9m to date. Karoline Herfurth's comedy Wunderschön, about five women of different ages confronted with their self-image and the demands of themselves and others, is the top-grossing German-language title, with €14.4m, also through Warner Bros.
Spain
Spain is slightly further back, with €162m for the first half of 2022 – 60.4% of 2019's €268.4m. Universal's Jurassic World: Dominion is the current leader with €15m; while Spanish-language titles have struggled, with none breaking into the top 10 so far for the year.
Italy
Italy has the slowest recovery of the major European territories, with its €131.6m half-year figure for 2022 at just 44.8% of 2019's €293.8m. Disney blockbuster Doctor Strange In The Multiverse Of Madness is top with a €12.1m total to date; with only franchise comedy Me contro Te – Il film: Persi nel tempo (translation: Me Against You – The Film: Lost In Time) reaching the top 10 from Italian titles, in 10th place with €3.8m to date.